What to expect from Sheds Direct Ireland's Steel Shed Assembly option (Updated 2023)
Steel Shed Assembly
So, you've picked your shed and having read our guide on self-assembly and you've decided that you want the Sheds Direct Ireland team to assemble it for you. That's everything done, right? Shed goes up, everyone's happy and we all live happily ever after, yeah? Well, sort of. Today we're looking at what the Sheds Direct Ireland steel shed assembly option includes. Perhaps more importantly, we'll also look at what it doesn't.
Since 2023, we can offer steel shed assembly in all counties in Ireland. Our team will assemble in the Greater Leinster area. Sheds Direct West will assemble in the West of Ireland and Karl Dempsey will assemble in Cork. You can order through our websites for all counties (except Cork, of course) and we'll arrange the fitting for you. If you're in Cork and want to order, call Karl. He's at 086 821 7777 before you order your shed and he'll see that you get sorted.
Now, rather than jump straight into it, we'll instead start with the one thing that we require from you:
A solid level base is required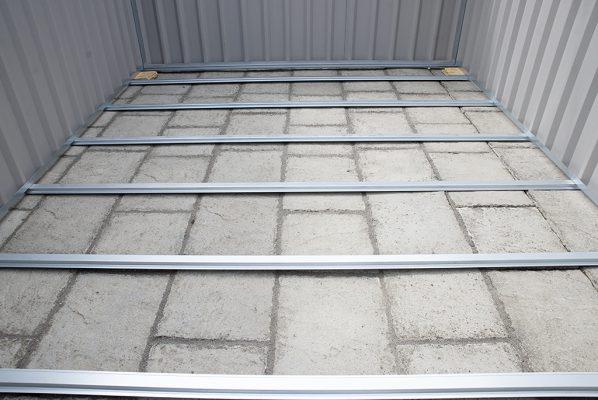 The only thing that we require you to have ready is a solid, level base. The lads wouldn't say no to a cuppa tea, I'm sure, but a solid, level base is vital. We can't build a shed on grass or muck, so if you don't have one ready, our team will have to walk away (without their tea).
You can see what your base should look like over on our post 'Good Bases for Steel Sheds'. If you need a laugh, you can see how I got on when I threw myself into 'laying a slab base'. Seriously, this is vital. We don't offer a base laying service ourselves, so this must be done ahead of time. If you're getting concrete poured, this will need to be fully set before the team can begin construction. Don't worry, if you're not the handy type, we also have Shed Bases that click together like lego. Just throw down a roll of damp-proof membrane and cover this with sand. Lash the Shed Base on top and fill it with gravel. You now have a base that's suitable to put a shed onto. For your sake and ours, we cannot lay a shed onto an inappropriate foundation. It'd only cause grief for you and all your lovely stored items down the line. It's vital that you have an appropriate solid, level base in place.
If the team do need to cancel on you, we will only be able to book you in for assembly once we have confirmation that your base is ready.
Right – on to what we can offer you.
Steel Shed Assembly
When people have a go at assembling a flat-packed shed, they will be surprised (read: angered) to learn that it's taking a lot longer than expected. We've had people who've spent at least two full weekends piecing together a Steel Cottage Shed. If you want the hassle-free life, getting our guys to assemble it is the obvious choice. They'll piece our largest sheds together in no more than 3 hours.
But it's *just* shed assembly
So the main thing to note about shed assembly is that it's just that – the assembly of the shed. The team won't be in a position to assemble shelving units, carts or any other purchases that were made at the time of order. This makes sense – if you only pay for shed assembly, you'll only get the shed assembly! Our assembly teams regularly have 5-6 assemblies per day, so to avoid delays and make sure they get to everyone, they are not in a position to assemble extra pieces for you.
Plywood floor is included
The cost of assembly can seem expensive on the surface, but when you consider that it includes the internal plywood flooring, it's actually not too bad. At the time of writing, the price of ply is about €35. Most sheds need 3-4 sheets. We use 18mm Smart ply, which is robust and suitable as use as an internal floor, but it's also not unreasonably priced.
As part of the assembly service, our team will bring the plywood, cut it to size and affix it down for you. Once the team are done, you'll have a kitted out interior to you shed. As most of our metal sheds have internal floor frames, the floor being in place removes a trip hazard, as well as giving you a nice flat surface inside the shed.
Plastic wrap & screw caps
Our Steel Sheds come with Plastic wrap laid onto the panels, to prevent them becoming damaged in transit. This plastic is left on by our steel shed assembly team and many people choose to remove this themselves after the team have been. Leaving them on or taking them off is entirely up to the customer and the removal is purely optional. However you must be aware that our team will not remove the plastic wrap from the sheds. If you choose to remove it, we would advise starting from the bottom and pulling up. We do not recommend taking any sharp objects to the wrap as you may damage the sheets underneath.
It's worth noting that on our Premium Range of Steel Sheds, the plastic may give the appearance of the shed being scratched, but once the plastic wrap is removed, you'll have a sleeker looking shed in front of you!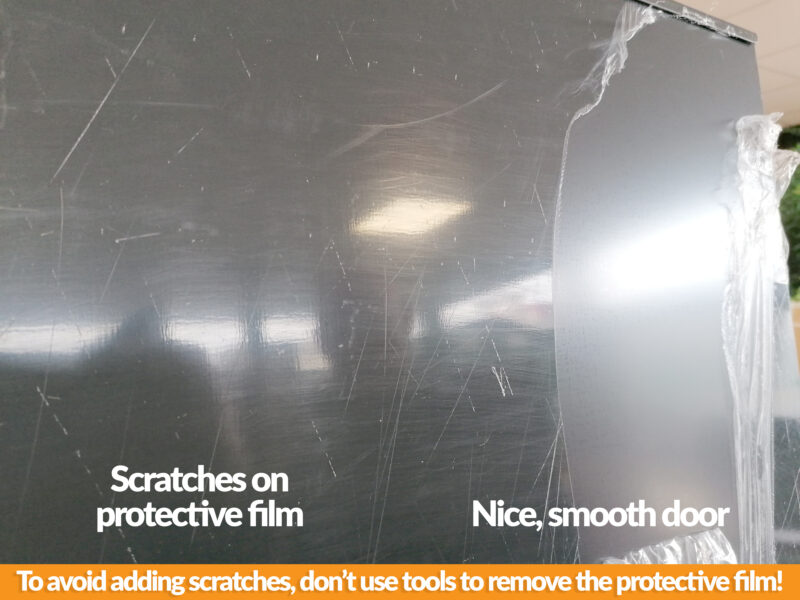 The screw-caps are a similar case. These are are again wholly optional to apply and the team will leave a bag of these cap-coverings for you in the shed should you wish to apply them yourself. Their application (or non-application) does not affect the shed in any manner. The plastic caps cover the tips of the screws.
Bolting the shed down
With the exception of our Woodgrain Sheds, our Steel Sheds do not necessarily need to be bolted down. Once they're assembled correctly and filled with stored goods, they're generally good to go. The Woodgrains are light however and as such they do need the extra support; however the rest of our steel shed range are generally fine in most scenarios. If you're thinking of placing your shed in an exposed garden/field or if you're in an area that experiences high winds (coastal areas, for example) you will need to bolt your shed.
Our assembly team cannot bolt down sheds for a multitude of reasons, but the obvious ones are insurance and health & safety. Our team cannot guarantee that there aren't main lines or electrical wires underneath your base, so they're reluctant to jam a metal bolt in them. Similarly, damage caused to anything as a result of bolting is not a risk that we are willing to take, given that in the vast majority of cases, the shed does not need to be bolted.
Assembly is weather permitting
As you might imagine, we don't send our assembly team out to work in certain weather conditions. Working with steel panels during electrical storms is fairly obvious reason for cancellation, but the main reason for cancellation can annoy some people: high winds. Wind is the main reason for us having to cancel a steel shed assembly. Our team can and have worked in snow, heavy rainfall and more besides without issue, but trying to assemble a shed in high winds is near impossible; besides being difficult to control the panels,  it's also lethally dangerous. Large, galvanised, sharp-edged panels of steel being flung like high powered frisbees could lead to serious injury.
'Buh if yizzer cancellin' sheds cozza d'wind in Ireland, yiz must be never fittin' sheds!'
God, you're gas.N, but seriously, this is something we've heard a few times, but it's just not true. We like our fitters to have the right amount of fingers, arms and heads on them, so we will only cancel steel shed assemblies when we absolutely have to do so.
Electrical work etc.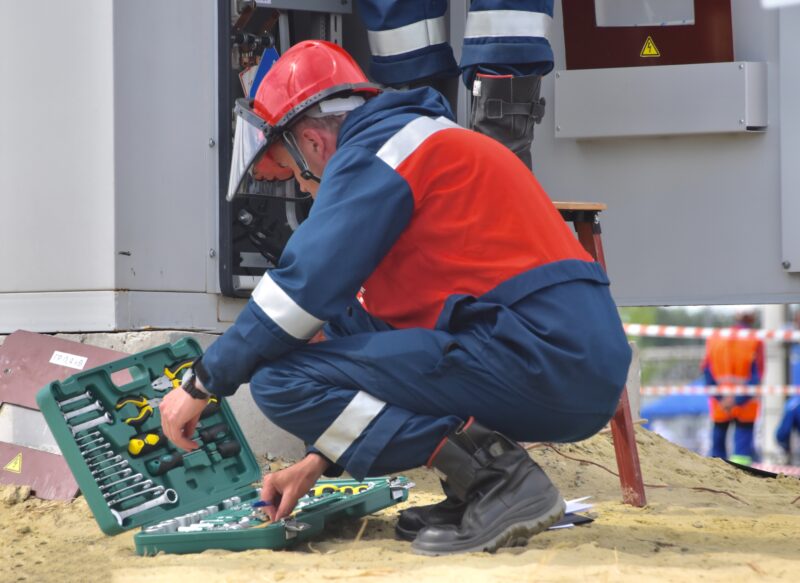 It should be no surprise that our fitters cannot modify, move or add any electrical appliances, wires or fuse-boxes into your shed. They are not registered electricians. Non registered electricians are liable for up to €3,000 fines from Safe Electric if they undertake illegal electrical activity in Ireland. The fines are mostly besides the point though. You don't want someone who doesn't know what they're doing wiring up a steel shed with wires. You don't need a weaponised garden shed in your back garden, either.
External Contractors
On this note, it is important that you do not have any contractors/builders etc on site while our team are assembling. The reasons for this are twofold. One, to allow our assembly team to build their shed without impediment. Two to also to prevent financial loss to you. As stated above, our assembly is weather permitting; our fitters can't work in high winds, but this high wind might not be an issue for electricians, plumbers etc. If our fitters cannot attend, you most likely will still be charged by the other contractors for their time. As such, we advise that you do not have any other people present at the time of assembly for your own sake. We cannot accept any responsibility for any financial loss caused by cancellation of assembly.
Arrival Times
Our fitting team will call 30 minutes before arrival. We cannot give precise times due to the nature of assembly services. A previous assembly may be cancelled minutes before arrival, the delivery van can get stuck in traffic, a delivery may take substantially more time than expected due to adverse weather etc. As such, our assembly team can only notify you of their arrival 30 minutes before arrival.
Summary
Our assembly team will build your shed as it should be built. We can't bolt it down, place on the screw caps or remove the plastic wrap, however. We're not electricians, so we can't wire it up.
This post should outline everything you need to know, but if you have any questions get in touch. Call us at 01 864 4247, email us at sales at shedsdirectireland.com, or message us over on Facebook.