Good bases for Steel sheds (It's all about the base)
Bases for Steel Sheds are vital. Wooden Sheds just need blocks as a foundation (you can see how many blocks you need here), but for Steel Sheds, a solid, level base is necessary. We make every effort to make sure you're aware of the importance of this when you buy a steel shed from us, because it's super important that you have one ready.
"A solid, level base (covering the full surface area) must be in place before our team can assemble the shed. It cannot be laid on grass alone. If the area is not prepared before our team arrive, the assembly may not be possible and an additional charge may apply for refitting"
Even if you decide to self-assemble, we'd still recommend having a solid, level base in place. It's pretty straightforward, right? Have a solid, level base in place and you'll have no issue. However, we're here to set out exactly what is a good base and what is a bad one (as well as a few mind-boggling ones).
Correct Bases for Steel Sheds
1. The 'Shed Base'
Our Shed base is by far the easiest, cheapest and simples solution to getting a base sorted. If you can connect two pieces of lego together, you're already over qualified to assemble it. See the Shed Base here.
2. The Solid Slab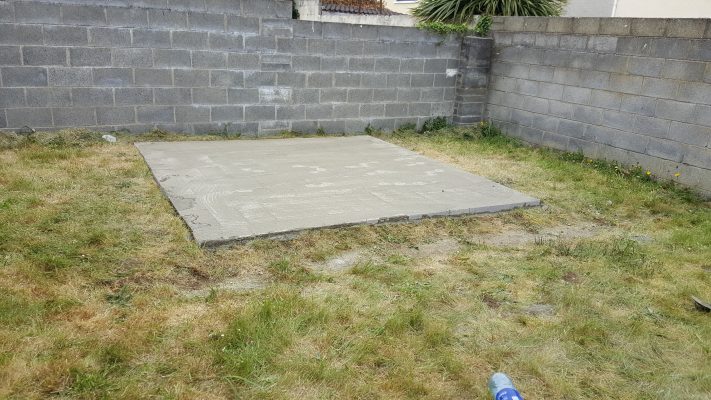 Here we have two perfect examples of a concrete base. They're solid, level and there's a bit of room at the back too. If bases for steel sheds could have lips, you'd kiss this one. 10/10
See how to lay a concrete base here.
3. The Neat Paving Slab Base
Here's another spiffing job. This is neat, level and solid. It's larger than the size of shed going onto it. It's a perfect job. Paving slabs are by far the easier and more affordable way to go if you don't want to mess around with concrete. You can see how I (a DIY-avoiding nerd) got on following the instructions when I laid a slab base for myself.
4. Concrete Alternatives
A. Rubber Slabs
If you don't want to go down the concrete route, other materials that are acceptable are these hardcore, thick rubber slabs. They can be laid on the grass and are thick enough to take a shed's weight also. You'll get them in most building suppliers, but we don't stock these ourselves.
B. Decking
You can also use Decking for a base for your shed. While this isn't something we'd recommend straight off the bat, it's a suitable alternative, if it's a solid decking structure. You do have to remember that Decking will rot over time and your shed may sink into it if the decking is not correctly supported. For these reasons we only suggest Decking if you the customer are happy that your Decking is solid.
C. Tarmac
Tarmac is suitable also, providing that it is solid and level. It isn't commonly used due to the expense of it and hassle involved to get it solid and level enough to support the steel shed correctly.
D. Hardcore Stone.
Providing that you've levelled-off your hardcore stone, it is a suitable base for a Steel Shed.
Please note: Before you lay your base, we strongly recommend that you place a damp-proof membrane in place. This will greatly reduce the chances of condensation during Winter months! You can find damp-proof membrane in any good hardware or builder's suppliers store. 
Incorrect Bases
Alright. Here's the fun stuff. These are 100% unusable.
1. The Hollow-Core Base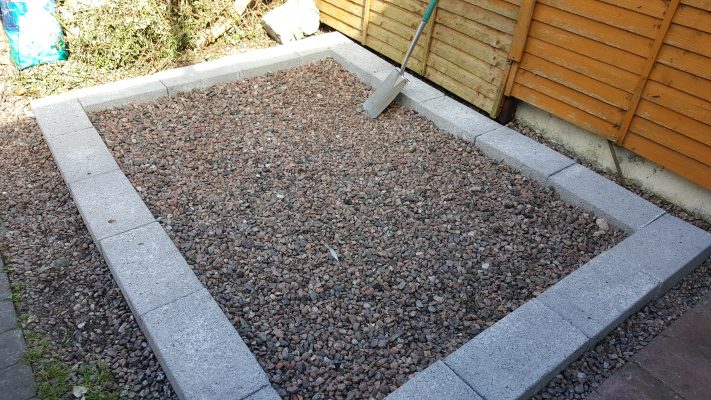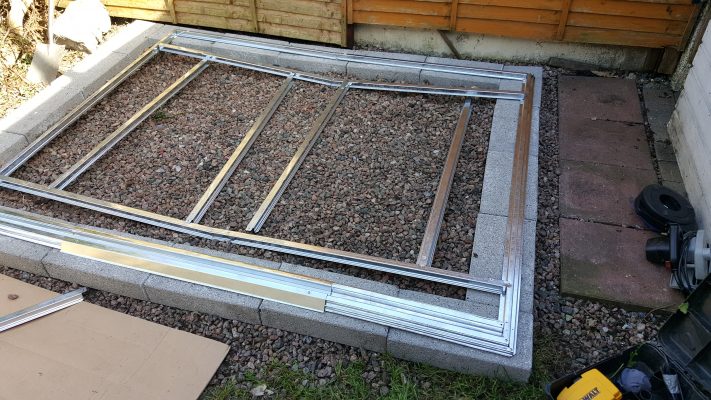 There's absolutely no internal structure here. There's less internal fortitude here than there is in a cowardly Jelly Baby. As you can see, when the shed's internal frame was placed on this base, it just folded in. It's utterly useless. Your shed wouldn't line up and you'd never get your walls to be level either.
It's a pretty common base mistake – here's another example:

This customer was baffled and angry that his shed wouldn't fit together, but of course, it wouldn't. If you remove the base frame at the start, you're giving yourself a lot of extra work – and possibly an impossible task. Because the shed is not a 'complete unit' without the frame, the walls will just slide apart when the roof is put on top, maybe only slightly – but that's enough. You'd drive yourself spare trying to line the wall panels up. They'll move, warp, or pop out of place over time too.
The base frame is super important. It's not just there for the craic. 
2. The Off-Kilter Base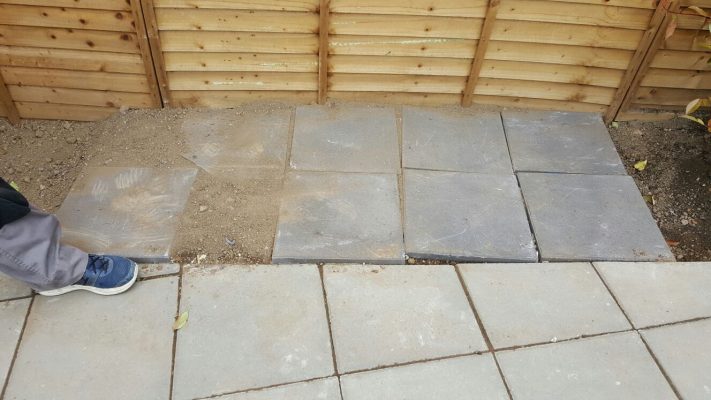 Yikes. This is solid, but it's as sure as hell not level. It's visibly crooked and there is at least an inch gap between the two sets of slabs. You'd see straighter lines at a spaghetti throwing contest. Putting a shed on top of this will lead to it leaning – which can cause misalignment of panels. If you're getting a shed with hinged doors, they'll just swing open and closed too, as the shed won't be sitting flat.
Please don't do this.
3. The Bonfire Base
Ah. Ah, dear. As bases for sheds go, this one is a marvel and it sort of hurts to look at. It's just pallets. It's just manky old pallets that have been arranged to look like a solid level base. This is not solid at all. One misstep and you're going through your shed floor. Over time the pallets will sink into the grass too and your shed will slowly begin to warp and crack. Not to mention that one mis-flicked cigarette butt could see the whole thing burn down to the ground.
Jesus wept.
4. The Individual Slabs / Artistic Base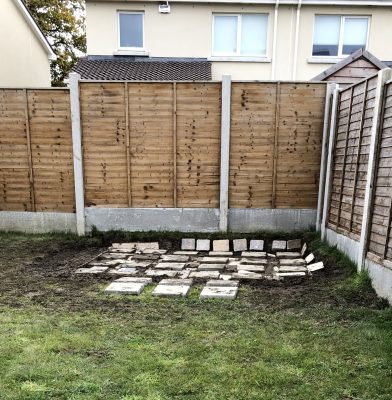 You might be surprised to learn that here at Sheds Direct Ireland, we're big fans of modern art. It's enjoyable to look at in galleries. However, it's not great to be influenced by it when you're laying your base. The shed would not be level sitting on this Mondrian-inspired monstrosity. It would be potentially rocked or moved by high, wintery winds. Similarly, because it's not solid the entire way through, the weight would be dispersed poorly and you could end up breaking a wooden floor by simply walking on it.
Leave the abstraction to modern artists. Get yourself a solid, level base.
5. The …Honestly, I don't know at this stage

In some respects, this is nice. Nice in the sense that it's nice to know that after years of putting up sheds there's still bases for steel sheds out there that have the capacity to charm and confuse you in equal measure. You can see in this picture that the customer has managed to get their hands on a perfectly sized iron base – not something easy to attain these days. These normally get placed on grass or soil and you build your shed up from there. It's a pretty fancy solution. In this case, however, it's just been bafflingly plonked into an old, empty pond. At an angle.
Spectacular.
Closing Words Bases For Steel Sheds:
Bases for steel sheds aren't difficult to sort, but they are vital to the lifespan of your shed. Your base MUST be:
Solid
Level
Larger than the base of the Shed
That's literally all there is to it.
If you need any more help on laying a base, why not check out our helpful guides. You can also read our shed blog for more insightful tips.
Or if you want to speak to us, call us at 01 864 4247 or message us on Facebook during business hours.
Ready to order your Steel Shed? Check them out our range of Classic Steel Sheds, our range of budget Woodgrain Sheds or if you're looking for something with a window, our Steel Cottage Sheds.