Description
LED Plant Pots
The Illuminated LED Planter lights up your garden. Literally.
These plant pots are filled with LED lights so they can glow in any RGB colour as well as white. They're charged via the included plug cable, they last for hours at a time and they can be the perfect accompaniment to any mood you're looking to achieve in your garden, wedding venue or sensory room.
How it works
These LED Plant Pots can be controlled easily through the included remote control. You can select the colours manually by clicking the corresponding colour on the remote control – or you can choose to have it cycle through all the available colours.
Lighting up a wedding? You can choose to have all the planters in the room glow a beautiful, crisp white light during the ceremony or meal.
Having a party? You can use the planters to enhance the party mood. Set them to 'Flash' mode and choose the speed of the flashing by using the 'sunshine' buttons on the top of the controls.
Chilling out or looking to enhance a sensory room? Set the Pots to 'Fade' and turn the speed down to create a calming, meditative mood.
Styles available
There are 7 styles available. You can get more information about each of them and see photos below:
LED Plant Pots Materials
All of these LED Plant Pots are made with high-grade, tough and durable polyethylene. This means it's the perfect material to allow the light to shine through while staying tough. It's easy to wipe-clean and it's safe to use indoors and outdoors.
Other Uses
While the LED Plant Pots are perfect, well, yknow, plant pots, some of the larger ones also double-up as fantastic ice-buckets. Simply make a bed of ice, plonk all your plonk into it, and top of with a bit more ice. It's perfect for BBQs, bars or nightclubs!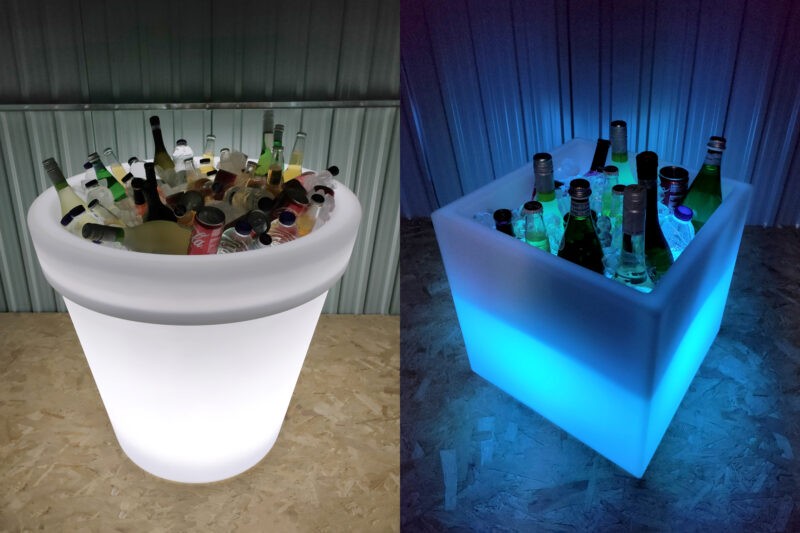 Batteries
Each of these LED Planters comes with a 3.7v battery. The mAh (milliamps per hour) varies depending on the specific unit from 600mAh for the smaller ones to 4400mAh to the larger ones. For specific details about the battery on a specific planter, check out the individual products listed above.
Delivery Timeframe
We use a third-party courier service to deliver these plant pots to you. Normally it's a 3-4 working day delivery time on any orders, however during busy times like Christmas, it can be a day or two more.
Can I collect in store?
Of course! We have a showroom in Finglas, North Dublin where you can collect these planters from. You can find the location for the store on Google Maps or if you'd rather use our Eircode to find us, it's D11DT98.
Our other LED products
We have a small range of LED products that might be perfect additions to your home of event venue.
The LED Swing Chair is a fantastic addition to any home, venue or sensory room
Important Notes
Flowers are not included with these plant pots, they are included in images for illustrative purposes only.
'The Ball' is not a Plant Pot,
Do you have any questions about these LED Plant Pots?
Contact us at 01 864 4247 during business hours, or message us on Facebook or Twitter. We'll get back to you as soon as we can!
Reviews (0)
Only logged in customers who have purchased this product may leave a review.