Description
Wheelchair Ramps
Here at Sheds Direct Ireland we have a range of lightweight, portable ramps that will provide wheelchair access for any step or kerb. These high quality, aluminium disability ramps are super affordable and will make life a whole lot easier. All three sizes that we have available can be easily folded away during transport and come with a very useful handle that makes carrying them a piece of cake. These mobility ramps can carry up to 600 pounds in weight so despite being light, they are incredibly durable. They are perfect for electric and manual wheelchairs, as well as mobility scooters. These ramps are CE approved with safety edges on each side of the ramp and a non-slip surface throughout.
Wheelchair Ramps Materials
Our Wheelchair Ramps are made with aluminium. This means that these disability ramps are nice and light for easy handling but also very sturdy so they will get the job done as well as lasting the test of time. The
Sizes Available
There are three sizes available. They are:
Small: 61cm x 72cm
Medium: 122cm x 72cm
Large: 183cm x 72cm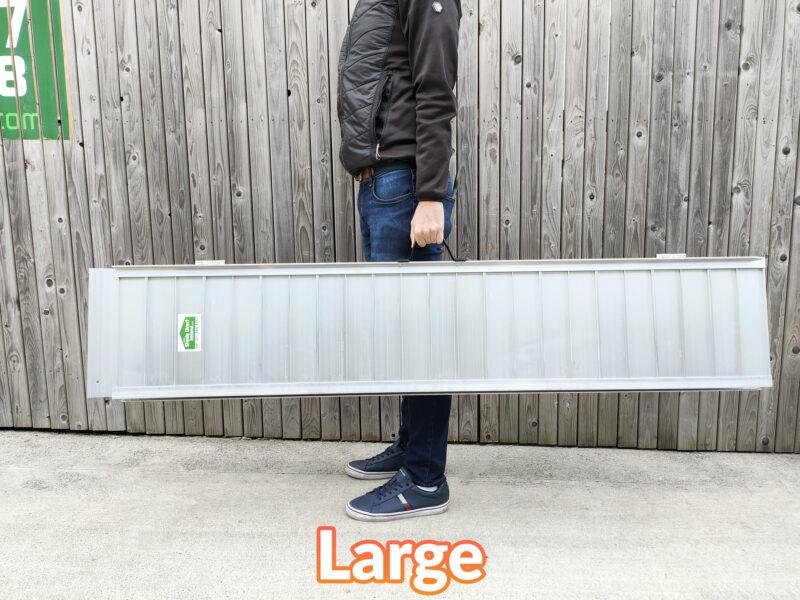 Weight Capacity and Unit Weight
Small: Max Capacity 270kg / Weighs 5.2kg
Medium: Max Capacity 270kg / Weighs 10.05kg
Large: Max Capacity 270kg / Weighs 14.7kg
See them for yourself
You can see these wheelchair ramps for yourself in the Sheds Direct Ireland Showroom in Finglas. Our showroom has a wheelchair accessible entrance and the inside is tiled. Here you will be able to see these ramps for yourself and ask our Business All Stars accredited team about them too.
Important Note
These wheelchair ramps are not suitable for quads, ride-on lawnmowers, cars, heavy machinery etc.

These ramps have a maximum weight capacity of 600lbs / 270kg / 42 Stone.
Weight is based on an evenly distributed load on 2 axles. 300lbs / 135kg / 21 Stone on a single axle.
Do not exceed the weight capacity of load height of the ramp
Use ramps on a stable and level surface only
Other Options
If you need something more suited to heavy lifting, we stock a variety of other loading ramps on our website, including Folding Ramps, as well as loading ramps suited for loading cars too.
Reviews (0)
Only logged in customers who have purchased this product may leave a review.