Premium Apex Shed: The Apex 8ft x 10ft
Premium Quality
The 8ft x 10ft Apex Shed is made with high-quality steel and given an elegant finish.
Sturdy Construction
This shed is made with thick steel, it has galvanised steel sheets and a galvanised steel tube frame.
Elegant Design
Despite being made of such solid materials, the 8ft x 10ft premium shed is easy on the eye and would look smart in any suitably sized garden.


Description
Premium Apex Shed: 8ft x 10ft
This is the largest shed in the Premium Apex Range. It's 8ft wide x 10ft deep.
The Premium Range stands out from the rest of the sheds for numerous reasons. These sleek, elegant and sturdy sheds are unparalleled in their class. We make these sheds with thicker steel. We coat them in anthracite grey and we pack them with exclusive features not seen elsewhere in our shed ranges.
Premium Apex Shed: 8ft x 10ft Dimensions
244cm / 8ft 0″ Wide (Externally)
299cm / 9ft 10″ Deep (Externally)
201cm / 6ft 7" Apex
180cm / 5ft 10″ Wall Height
173cm / 5ft 8″ Door Height
128cm / 4ft 2″ Door Opening
Please note that in very rare instances, the shed may vary +/-10% in size.
Premium Apex Shed Materials & Build
Made with galvanised steel.
0.6mm galvanised steel tube frame
Floor Frame Included! (Please note: orders made before 16-5-21 will not include this floor frame)
0.4mm thick galvanised roof and wall sheets
0.6mm coating sheet on flat door
The Premium Range fits between our Classic Range and our Heavy Duty Range in terms of steel thickness.
Assembly Details
This shed is easy to assemble for those with experience in working with flat-pack items. Instructions, Screws, nuts and fittings are all included, however, you will need the tools to erect this yourself (drill, screwdriver). The instructions are image-based, i.e. there is very little text. We recommend that you read our guide to self-assembly and check out our instructions page to see what's involved if you're thinking of giving self-assembly a go yourself.
We would strongly advise that two people put this unit together because it may be awkward or unsafe to do it alone. The large sheet panels can be cumbersome and difficult to align alone. They can become very dangerous in high winds, so we also advise against assembly in windy, wet or otherwise unsafe conditions.
Assembly by our team
The team will assemble your shed for you provided that you have a suitable base. The assembly team do not apply the screw caps or remove the protective plastic film. These are optional and it is the customers' choice to add/remove these if desired.
The assembly team do not assemble any other products other than the steel shed.
e.g. They do not assembly shelving units, canopies, carts or any other item purchased with the shed
Premium Apex Shed: Base Requirements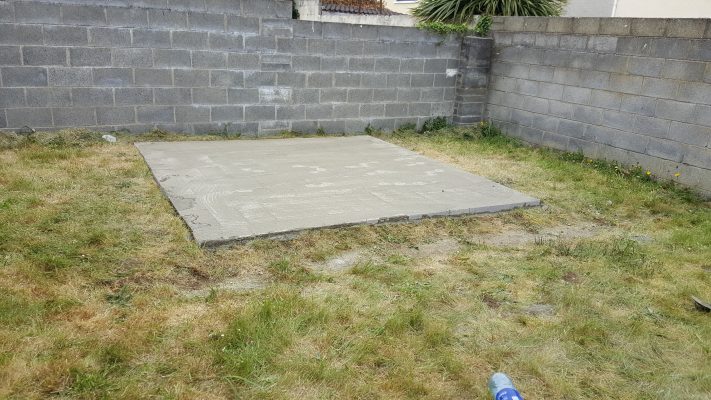 Whether you're getting our team to build your shed for you, or if you're self-assembling, you will need a solid, level base for the shed to be built upon. It cannot go onto grass/muck alone. Bases like concrete, paving slabs, tarmac or hardcore stone are acceptable. We would recommend that your base is at least a half-foot bigger on each side that the stated shed size.
In this instance, we would recommend an 11ft x 9ft base.
We would also strongly recommend that you put down a damp-proof membrane for your shed. In most instances, this would go under your base when it's being prepared. If someone is laying a concrete base for you, make sure this is going down before they pour the concrete. In the worst-case scenario, where your base is already built and it wasn't done, you can just place the damp-proof under the frame of the shed.
This will greatly reduce the chances of condensation forming in your shed during Winter months.
Features
There are several exclusive features to the Premium Range of sheds that you won't find elsewhere at Sheds Direct Ireland.
Built-in lock with turnable handle
The built-in lock with a turnable handle is one of the more obvious ones. This negates the need for a padlock and gives the shed a more premium feel in itself. Two keys are supplied with the shed itself.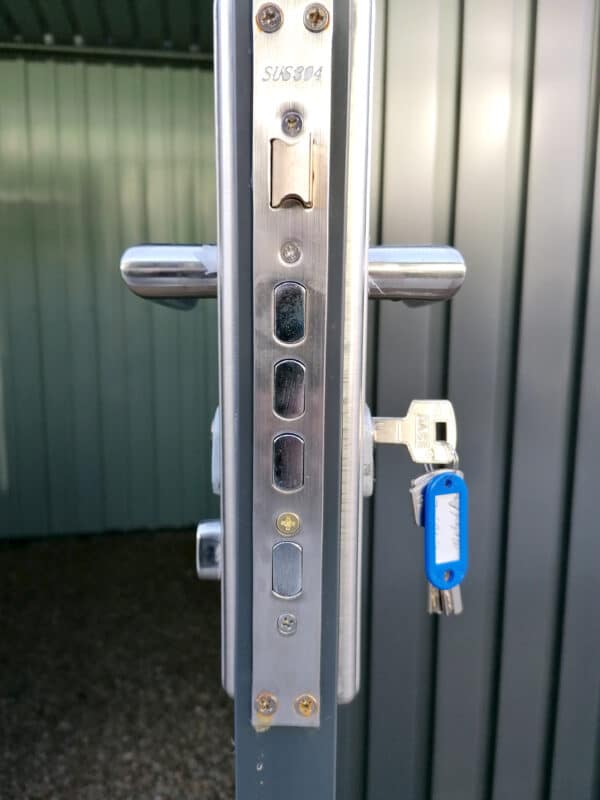 Single Skin Doors that open wide
The Single-Skin double doors add a smooth finish to the shed. They also open wide! Even wider than our Colossus shed, in fact. The 8ft x 10ft steel shed opens to 128cm / 4ft 2″. That's large enough to get large garden carts, quads or ride on mowers into! They have stainless steel 304 hinges too!
Tubular Frame
The Steel-Tube Frame is only available in the Premium Range of sheds from Sheds Direct Ireland. It gives additional strength to the structure while removing edges that would be rough and unsightly.
Galvanised Steel Panels
We coat all our steel sheds have been zinc coated to prevent rust forming. The premium range is the only range where the steel frame AND the panels have been galvanised.
Hooks included
We include 8 hooks with this shed, giving you ample storage solutions for your tools.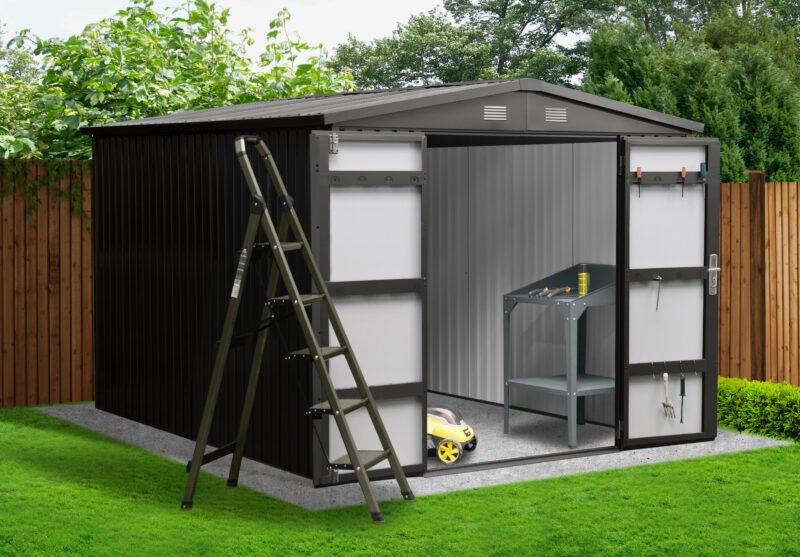 Rust Perforation Warranty
These sheds have an 8-year rust perforation warranty. We coat the panels with zinc, which prevents the steel rusting. That's not to say that you will not get surface rust. The small screws may (over the space of a decade or so – or sooner if you are by the coast) show signs of surface rust. You can easily replace them with new ones found in any good hardware shop.
Our warranty does not cover rusting is caused by damage to the shed panels. If you scratch or damage a panel, this can allow rust in. We advise treating any scratches or damages straight away. Contact us if you need details of how to treat a steel shed.
It is for this reason also that we do not advise on placing any steel shed under a tree.

Please read our 'What to expect after purchasing your shed' guide for all information relating to delivery / assembly. Page 1 is flat-packed delivery details, page 2 is supply and fit details. 
The Pictured Wooden Floor is not included with flat-packed sheds. Ply flooring only comes with the assembly option, which is not available in every county. 
You will need a solid, level base for this shed. You cannot lay this shed on grass alone. Please see our guide on how to choose should you need assistance.

All Steel sheds, including this one, are measured externally, from the widest points.

Internal floor size will differ from external measurements.

In very rare instances, the shed may vary +/-10% in size. This is because of the way in which steel is cut. 
Please read our FAQ if you have any other questions in mind before purchasing. Or call us at 01 864 4247 or message us on Facebook.
If you are considering self-assembly, we recommend that you read 

our guide

 on self-assembly first.
Additional information
| | |
| --- | --- |
| Flat Pack or Assembled | Flatpacked, Supplied and Fit |
| County | *Collection, Antrim, Armagh, Carlow, Cavan, Clare, Collection, Cork, Derry, Donegal, Down, Dublin, Fermanagh, Galway, Kerry, Kildare, Kilkenny, Laois, Leitrim, Limerick, Longford, Louth, Mayo, Meath, Monaghan, Offaly, Roscommon, Sligo, Tipperary, Tyrone, Waterford, Westmeath, Wexford, Wicklow |
Reviews (0)
Only logged in customers who have purchased this product may leave a review.