Garden Storage Box / Patio Box (2 sizes available!)
Storage with Style!
Keep blankets, cushions, games and more tucked away in the garden in this large, comfortable, fire retardant Lock Box!
Key-Lockable!
These boxes come with keys allowing you to keep them closed when they're not in use.
Flat-packed!
Don't worry – this Storage Box comes flat-packed, so you can move it through the hose in segments before building it in the back-garden!


Description
Patio Box
Garden Storage Boxes are very useful. Are you looking for additional seating for the garden, but are short on space? Need to keep something away from prying eyes outside the house? Want to keep things double safe inside a shed? This Garden Storage Box / Patio Box is the one for you!
Outdoor Storage Box
They're made with galvanised steel which means that they've been treated with Zinc to prevent rusting. These babies will last for years, providing you don't scratch them to bits! There's a built-in key lock, which presents as a turnable handle and which will keep all your garden tools out of reach. The gas-cushioned hinges prevent sudden slams, which helps prevent accidents. Gas cushioned hinges mean they close at a slower pace than gravity wants them to!
There doesn't need to be a compromise between comfort and storage functionality. It is a perfect place for drinks, games or pet accessories to be stored when they're not needed. You can keep the garden tidy while you entertain friends. Then pull out blankets as the night begins to draw in after hard working days, Fab!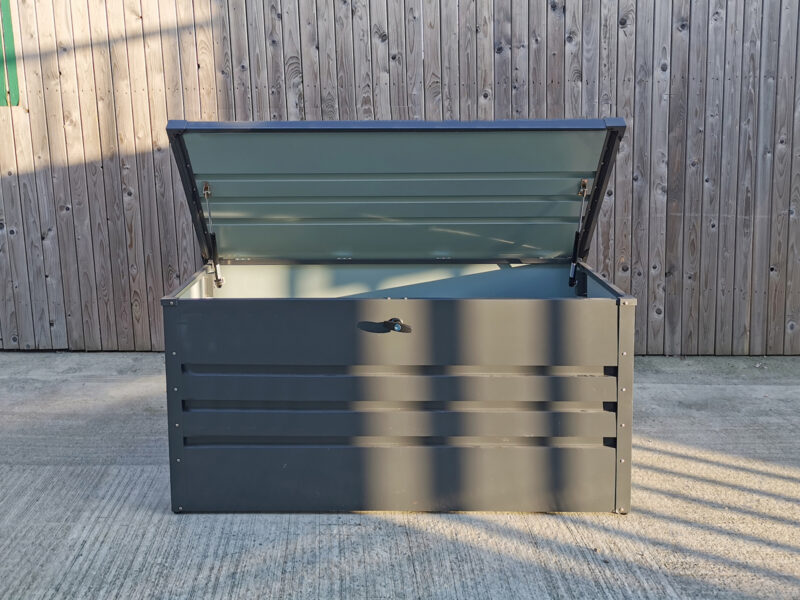 Garden Storage Box Sizes
The 400L option is wide enough to store footballs and children's toys, bottles of fuel, fold-up chairs, small umbrella-canopies etc.
The 600L can take most garden equipment, fold up chairs, medium-sized umbrella canopies, children's toys laundry cleaning etc.

400L Base Size: 124cm (L) x 53cm (W) x 60cm (H)
600L Base Size: 159cm (L) x 62cm (W) x 60cm (H)
Both sizes are measured externally.
This unit comes flat packed and shouldn't be an issue for anyone with flat-pack experience, but if you're really stuck. Call us at 01 864 4247 and we may be able to assist.
Alternatively, check out our video on YouTube which shows how to tackle the most common issue that arise when assembling the Garden Storage box: the internal locking mechanism.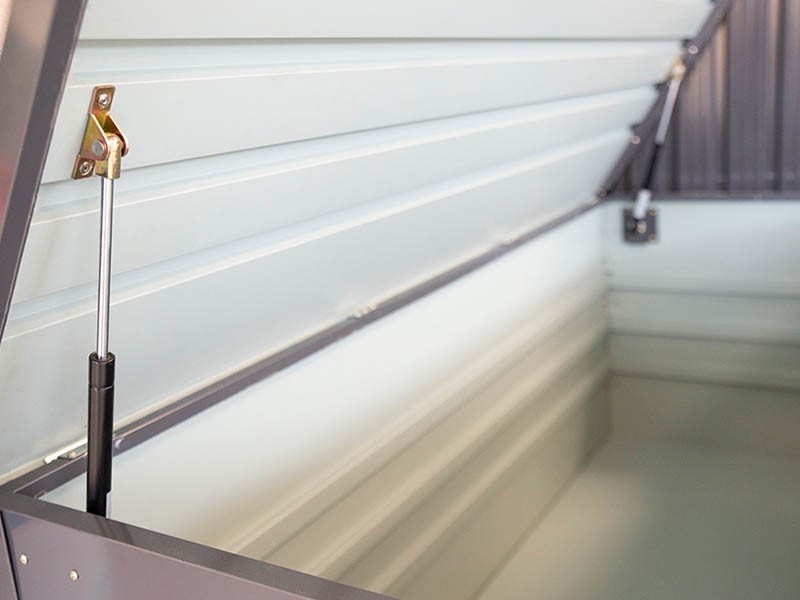 Patio Box Details
Hot-Dipped Galvanised and polyamide coated steel plate (Good for wear and tear and insulation).
0.6mm thick walls, flooring and cover.
Stainless Steel screws and gas hinges.
Key Lock Door
Rainwater-proof garden box made of Metal
Gas-assisted spring damper opening
Lockable
10 Year Rust Perforation warranty
Flat packed for easy transportation & assembly
Wipe-Clean Flat Lid
Garden Storage made easy
This is an ideal solution for general storage that doesn't warrant a shed. If you're storing truf, coals, barbeque bric-a-brac, garden equipment, sports equipment etc., this is ideal.
Garden Storage Alternatives
Need something bigger or smaller? We've a whole range of alternatives that might free up space i your home (or garden). We've Classic Steel Garden Sheds which are larger, or we have a whole range of alternative small storage options. Don't see what you need in these places? Get in touch!
Give us a call on 018644247, message us on Facebook or visit us in our Finglas Showroom. We'll be happy to get you sorted with something that suits your needs!
Additional information
| | |
| --- | --- |
| Patio Box Size | 400L, 600L |
| County | *Collection, Antrim, Armagh, Carlow, Cavan, Clare, Collection, Cork, Derry, Donegal, Down, Dublin, Fermanagh, Galway, Kerry, Kildare, Kilkenny, Laois, Leitrim, Limerick, Longford, Louth, Mayo, Meath, Monaghan, Offaly, Roscommon, Sligo, Tipperary, Tyrone, Waterford, Westmeath, Wexford, Wicklow |
Reviews (0)
Only logged in customers who have purchased this product may leave a review.