Wooden Shed (Standard Style)
The Standard Style Wooden Shed is our most popular Wooden Shed option. It has the Apex to the front of the shed (above the door) and it's available in a range of sizes and wood styles. It has a 7ft Apex, a door that's over 6ft tall, a bolt lock, one window and it's all nailed (not stapled!)
* Wooden Sheds are measured L x W
* Double Doors are only available for sheds with widths greater than 8ft
*Pictured blue lining is only supplied with Pressure Treated Deluxe or Barrel Board Sheds



Description
Wooden Shed (Standard Style)
If you're looking for a wooden shed, chances are that you want a Standard Style one. They're super popular. They can be made to order, so you can have it any way that you'd like it too. The Standard Wooden Shed is our best selling non-steel Shed. This style is also the most popular Timber Shed style in Ireland.
These sheds have their doors on the same side as the Apex, with one window (normally on the longer side). You've already seen them in Ireland – they're a classic. And with good reason! They're the perfect mix of style, functionality and quality materials.
They are endlessly customisable too, so you can have them whatever way you want them. Do you want to add more windows, flower boxes or catflaps? You can with a Shed from Sheds Direct Ireland. Contact us by phone if you don't see an option you want in our Checkout options.
If you're looking for a shed with the door that's not on the Apex side, you're after a Cottage-Style Shed. 
The Standard Wooden build comes in a range of sizes and a variety of wooden finishes. Check out this page if you're unsure of the differences between the wood types. We recommend that you look at the Deluxe Style as a beginning point. We don't recommend keeping anything that would be affected by damp in the Rustic Style of Wooden Shed.
Wood Options
Rustic: 10mm overlap boards with 16mm butt-jointed roof & floor
Deluxe: 22mm kiln-dried, planed weather sheeting with a tongue and groove roof and floor.
Barrel Board: 22mm kiln-dried, planed weather sheeting with a tongue and groove roof and floor.
Pressure Treatment upgrade also available.

For information about wood types and treatments, read this post

. 
Standard Wooden Shed features
All our Standard wooden sheds come with the below features as standard:
One window (Exception 6×8 Timore has two front windows)
One door
A mineral felt roof
A bolt lock
Apex height 7ft
Wall height 5ft 6″
Door Height 6ft 2″
Door Width 2ft 6″
Two twist-locks on the door (one high, one low)
A full wooden floor

There are a range of extras available. You can see these as you are ordering your shed.
Standard Wooden Shed dimensions
Each shed's dimensions will differ according to what you want.
They will all have 7ft Apexes as standard
All have one door as standard. It is 186cm / 6'1″ (H) x 82cm / 2'8″ (W). Double doors are obviously double this.
Standard Wooden Shed assembly details
All these sheds are built by our Wooden Assembly Team.
We do not supply our wooden sheds flat-packed.
You will need a level base to lay your shed on.
You do not require a concrete base for a wooden shed – all these sheds will go on blocks
To see how many 4″ concrete blocks you require for a given shed, click here.
You do not need to place these blocks in any particular order. Just have them to hand. Our team will move them about as they're building the shed
These sheds must go on blocks. They cannot go directly onto a floor/concrete base etc.
Check out a quick video on our smallest Standard Style shed, the 4ft x 6ft Rustic Wooden Shed here:
Wooden Shed assembly locations
These Timber Sheds are only assembled in: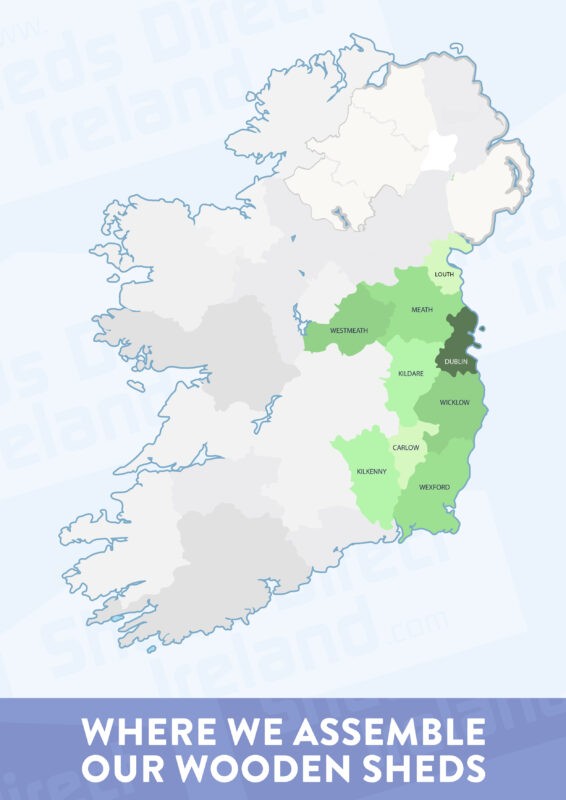 Dublin, Meath, Wicklow, Louth, Kildare, Carlow, Wexford, Westmeath & Kilkenn
Important Notes
Rustic Wooden Sheds are basic sheds. The wood is thin and porous and they cannot be lined even when pressure treated. We do not recommend storing anything of value or which could be damaged by damp in a rustic shed.
Timber Shed assembly dates will vary. Out of peak season, it is typically 10 days. In peak season it can be up to 10 weeks.
Contact us at 01 8644247 or find us on Facebook if you've any other questions
Additional information
| | |
| --- | --- |
| Wooden Shed Size | 6ft x 8ft (Timore), 6ft x 4ft, 6ft x 5ft, 6ft x 6ft, 7ft x 5ft, 8ft x 6ft, 8ft x 8ft, 10ft x 6ft, 10ft x 8ft, 10ft x 10ft, 12ft x 6ft, 12ft x 8ft, 12ft x 10ft, 14ft x 8ft, 14ft x 10ft, 16ft x 8ft, 16ft x 10ft, 18ft x 10ft, 20ft x 10ft |
| Style | Rustic, Rustic Pressure Treated, Deluxe, Deluxe Pressure Treated, Barrell Board |
| Roof Option | Galvanised Metal Roof, Standard Mineral Felt Roof |
| County | Carlow, Dublin, Kildare, Kilkenny, Louth, Meath, Westmeath, Wexford, Wicklow |
Reviews (0)
Only logged in customers who have purchased this product may leave a review.