Description
The Tiny Shed
The Tiny Shed is only a little dote of a shed and it's the smallest shed in its range. It's perfect for garden tools, turf or anything else that you want to get out of the house. It's available in Light-Grey and it can be delivered flat-packed anywhere in Ireland. To save space, it has a sliding door that is offset to the right.
If you only need something small for your garden, the Tiny Shed will be tough to beat.
The Tiny Shed materials
0.6mm Galvanised Steel Frame
0.3mm Zinc Coated Colour Panels
Dimensions
The Tiny Shed is:
4ft 9″ / 151cm Wide
4ft 3″ / 131cm Deep
6ft 2″ / 190cm Tall (in the apex)
5ft 7″ / 172cm Tall (in the eves)
All measurements are measured gutter to gutter, i.e. externally at the widest point. In rare instances, these sheds can vary +/-10% in size.
The Tiny Shed Features
The Tiny Shed is CE approved. That means it conforms with all health, safety and environmental protection standards within the EEA. It's priced like a budget shed, but it's got the certification to prove that it's the real deal.
It's made with galvanised steel, which means that provided you don't scratch it up, it'll last for decades without rusting.
It has built-in vents to allow airflow throughout the shed, reducing condensation. It's important that you keep these free from blockage.
The Tiny Shed also has one sliding door, which retreats into the front wall when opened. This door opens to 61cm. It also comes with an internal floor frame for extra stability and strength. This base can be bolted through to your solid, level base to give additional strength.
Assembly
At Sheds Direct Ireland, we give you options. You can choose to build any of our Steel Sheds yourself, or if you're within our Assembly Area (see map below) we can assemble the shed for you. Please see the details for our team assembling, under the next heading.
As you'd imagine, there is a charge for assembly,  so some customers choose to build the sheds themselves. This saves them money, but it does mean they have to get their hands dirty and spend time piecing it together. The good news is that the Tiny Shed probably requires a lot less work that our other sheds (It is tiny, after all).
You can see the instructions for this shed here, if you want to have a look at them before deciding to assemble it yourself. We also have a guide on self-assembly here which will walk you through the realities of what's involved and if you do decide to go ahead and assemble it yourself, we also have a FAQ that is packed with helpful tips and which also has answers to common questions people ask when self-assembling.
Assembly by our team
The team will assemble your shed for you provided that you have a suitable base. The assembly team do not apply the screw caps or remove the protective plastic film. These are optional and it is the customers' choice to add/remove these if desired.  The assembly team do not assemble any other products other than the steel shed.e.g. They do not assembly shelving units, canopies, carts or any other item purchased with the shed
Base Requirements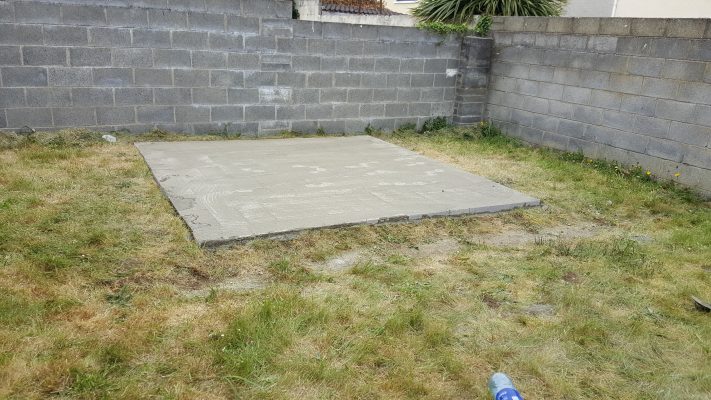 Like all of our Steel Sheds, the Tiny Shed will need a solid, level base that's larger than the base of the shed. Concrete is the ideal solution, but if you're not feeling pouring concrete, you can lay paving slabs too. You can lay this shed on tarmac or even decking; but please note that with decking, the shed may sink into it over time, if the area below it is left untreated.
You can see how to lay bases for our sheds here and if you want to see some real-life examples of good and bad bases, you can see those here. Obviously, if you're getting a fitting service, it's very important that your base is sorted ahead of the arrival of our fitting team. So account for concrete setting times, delivery of paving slab times etc if you're going down this route, as our fitting team do not offer any assistance with building bases.
We would advise that you get a damp-proof membrane in place also. This is usually laid before the concrete is poured/the paving slabs are laid. In scenarios where the base has done without a membrane being laid, the membrane can be placed under the frame of the shed itself. This will greatly reduce the chances of condensation forming in the shed during the Winter months.
The Tiny Shed Important notes
The Tiny Shed does not lock. It slides closed
Alternatives
The tiny Shed is a perfect small shed. If you need something a little different, maybe something shorter, or something taller,  why not check out other sheds from our small range? We're sure you'll find something to suit you.
Any Questions?
If you've any questions about the minuscule beauty that is the Tiny Shed, get in touch with us. You can call us at 01 864 4247 or message us over on Facebook, if that's more your thing.
Additional information
| | |
| --- | --- |
| Flat Pack or Assembled | Flatpacked, Supplied and Fit |
| County | *Collection, Antrim, Armagh, Carlow, Cavan, Clare, Cork, Derry, Donegal, Down, Dublin, Fermanagh, Galway, Kerry, Kildare, Kilkenny, Laois, Leitrim, Limerick, Longford, Louth, Mayo, Meath, Monaghan, Offaly, Roscommon, Sligo, Tipperary, Tyrone, Waterford, Westmeath, Wexford, Wicklow |
Reviews (0)
Only logged in customers who have purchased this product may leave a review.