Description
The Garden Bar
There's no better way to spruce up the garden than with a Garden Bar. It becomes the focal part of any garden party and it's a great place to socialise the morning-after the night-before. At Sheds Direct Ireland, we're happy to announce two new styles of Garden Bars to our Wooden Shed range. They're both made with tongue and groove timber and they'd both look great in any garden.
Different Styles
The two styles available are: The Al Fresco and The Tolka.
The Al Fresco has two exposed sides with a side entrance along the shorter side. It has a built-in shelf behind the bar and a small overhang on the ceiling. The Tolka is the more traditional garden bar. It has a pent roof with an overhang above the bar, two hinged wooden windows to open the bar up and a side door.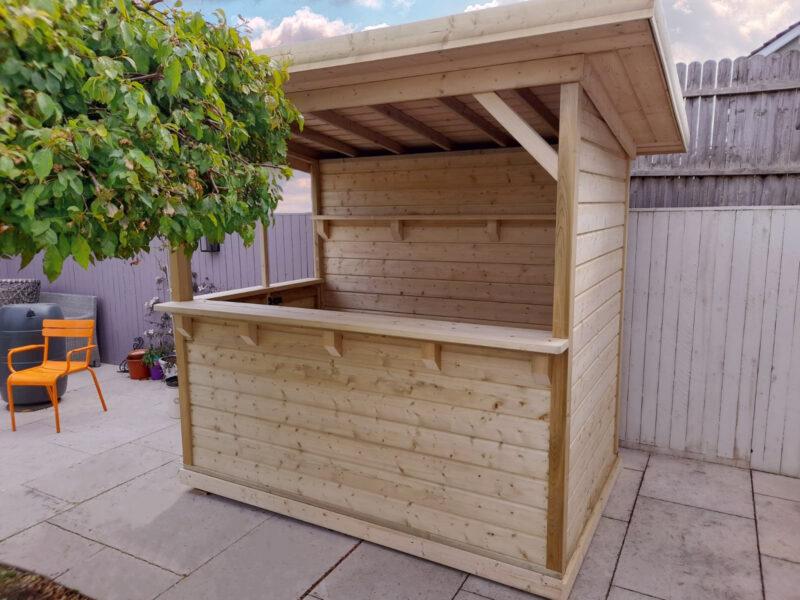 Garden Bar Dimensions
The Sheds Direct Ireland Al Fresco Garden Bar is measured externally and it measures:
8ft / 243cm wide
5ft / 152cm deep
7ft 2″ / 218cm tall at the front
6ft 8″ / 203cm tall at the back
The Tolka measures:
[Width and depth depend on which one you choose from the list]
6ft 10″/ 208cm tall at the front
6ft 6″ / 198cm tall at the back
4ft 11″ / 150m Bar window opening
1ft 5″ /  43cm Overhang above bar
Please note, unlike our other Wooden Sheds, we cannot offer custom sizes.
Please note the 6ft x 4ft Tolka Bar does not include the inside shelf-bar. 
Wood Finish
The Al Fresco Garden Bar is made with Deluxe Wood.
The Tolka is made with Pressure Treated Barrell Board Wood.
Want to read more about the difference in Wood Types and discover why Pressure Treatment is important? Read on here. 
The Al Fresco is made with Deluxe Wood, which is a tongue in groove wood. It's a sturdy wood, but it will need annual varnishing to keep it in top nick. It's a great option if you're looking to personalise it.
The Tolka Garden bars have a Barrel Board wood finish, so they looks the business. Barrell Board is essentially just Deluxe Wood with a 'bulged appearance like a log cabin would have, while Pressure Treated Wood means that you don't have to worry about treating your bar every year. It has been treated with preservatives, so it won't prematurely rot, it's not susceptible to fungus, rodents don't like gnawing at it, and it doesn't need treating for at least a decade. You can concentrate on perfecting a Whiskey Sour, safe in the knowledge that your latest addition to the garden doesn't need annual varnishing.
The Tolka Garden bar comes with a blue, moisture barrier lining, which prevents moisture evaporating and it drastically reduced the instances of condensation formation. The Al Fresco does not come with this lining, as it's more exposed and less likely to suffer from condensation anyway.
The Garden Bar
Both sheds have a bar built into them. As the Al Fresco is more exposed, it has a wider bar built into it, as seen in the images. The Tolka has a bar that sits just below the opening of the window. Both are large enough for a few pints, a few empties and the odd bag of scampi fries too. They both feature built-in shelves at the back too, perfect for standing your spirits onto. The Al Fresco has a full width shelf, the Tolka has a 450mm/18″ shelf fitted along the back wall.
You'll just need to make sure that the service staff don't let the empties pile up too much!
If you're looking for mounting Optics, get in touch prior to ordering to make arrangements for this. 
Wooden Shed assembly locations
These Timber Sheds are only assembled in: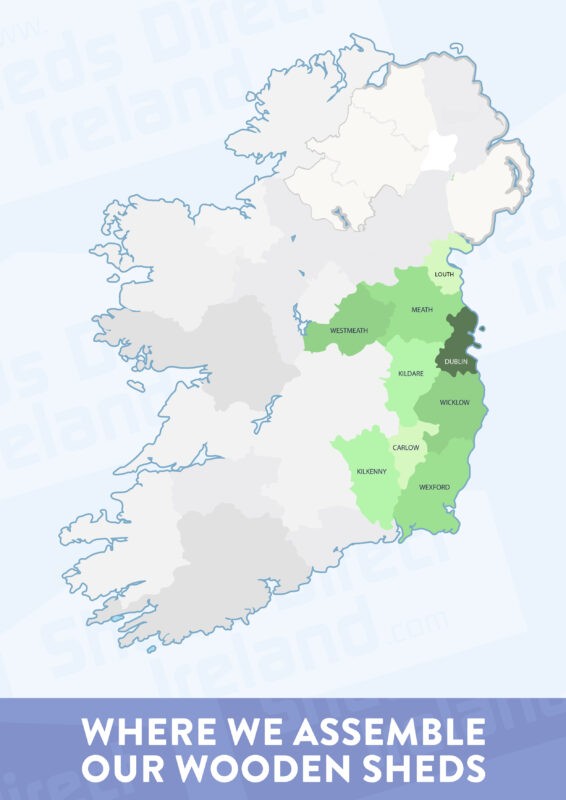 Dublin, Meath, Wicklow, Louth, Kildare, Carlow, Wexford, Kilkenny and Westmeath.
Reviews
The Garden Bar is new to Sheds Direct Ireland, so there aren't any reviews of them just yet! That said, you can see what Sheds Direct Ireland is like in general by reading our Google Reviews (With nearly 200 reviews, we're the most and highest rated shed seller in Ireland on Google Maps)!
Garden Bar lead in time
The lead in time for Wooden Sheds will vary depending on the time of year. Off Peak, you could expect to have your shed assembled in about 2 weeks. During peak season (May-August) you can see the wait dramatically extend, in some instances extending up to 10 weeks. Get in touch with us at 01 864 4247 to see what the current lead in time is!
Other options?
Need a Wooden Shed that's not a bar? Or do you want to convert a wooden shed into a little snug? Check out our range of wooden sheds here. Have any questions about garden bars? Call us at 01 864 4247, or message us on Facebook. We'll see you sorted.
Additional information
| | |
| --- | --- |
| Garden Bar Style | The Al Fresco, The Tolka (6ft x 4ft), The Tolka (6ft x 6ft), The Tolka (8ft x 6ft) |
| County | Carlow, Dublin, Kildare, Kilkenny, Louth, Meath, Westmeath, Wexford, Wicklow |
Reviews (0)
Only logged in customers who have purchased this product may leave a review.