Sheds Direct Ireland
Other categories
See what everyone is saying about Sheds Direct Ireland
We're Shedly!
Our customers aren't shy in letting us know how they feel about our products, our service and our lovely, lovely staff. You can see what they think for yourself in all the usual places and you can meet the team here.
For example, on Google Maps, you'll see that we've more 5-star reviews than any other Irish Shed company. Over on Trustpilot, we're rated Excellent and BestinIreland.com awarded us with their 'Best All-Round Sheds', title.
That's not all, though. We're also Guaranteed Irish, we're got the Retail Excellence Ireland Trustmark, we're the only AIBF Business All Stars accredited shed company (for 5 years in a row), we've received the Trust eCommerce Europe checkmark AND we were awarded the SuperTeam of the year by the AIBF too.
We really are Shedly!
I purchased a green Apex metal shed from Dawson Sheds two years ago - everything worked out perfectly until last week , when it was badly damaged when hit by an agricultural machine . In the hope of saving the situation , I texted Sheds Direct for help. Within minutes I received a phone call from Shamanta , who assured me that the situation could be rectified and so over a series of phone calls , I received an offer I could not refuse …. - it was an I'll wind that blew good . I would like to thank Shamanta and her manager for saving the day - with their professional and can do attitude .
Bought a premium 8 by 6 2 weeks ago when up to Dublin to look at them first . I was blown away with my customer experience the staff are the best I have ever encountered in any retail shop. The girl who helped us was patient and answered every stupid question I asked with a smile. As for the shed I put it up just in time for storm Betty to hit us in the south east very proud to say it survived with no damage. As for the shed it arrived the day they said it would but it took me 6 hours to put it together on my own I should have paid the extra to have it built for me lol and taking all the protective plastic off it was a pain . I will recommend this company to everyone as the quality shed I have ended up with is great and at less than half the price of there nearest rivals. Thank you
Wow fantastic products brilliant value so polite and professional to deal with
Easy and hassle free service. Went to the showroom a couple of weeks ago, when we decided what we wanted it was so easy to order and great price. Lady at the desk advised we needed a base and had easy instructions on how to lay. Came when they said. Highly recommend.
John Mac Ailin
10/08/2023
Quality excellent, Very good value and arrived on time. Would look forward to business with this company again.
Friendly staff, everything was well displayed and prompt service. Can't expect much more. Spot on
Tyrone Langenhoven
20/06/2023
Staff is friendly and helpful. Service was excellent and delivery was quick
Our Accolades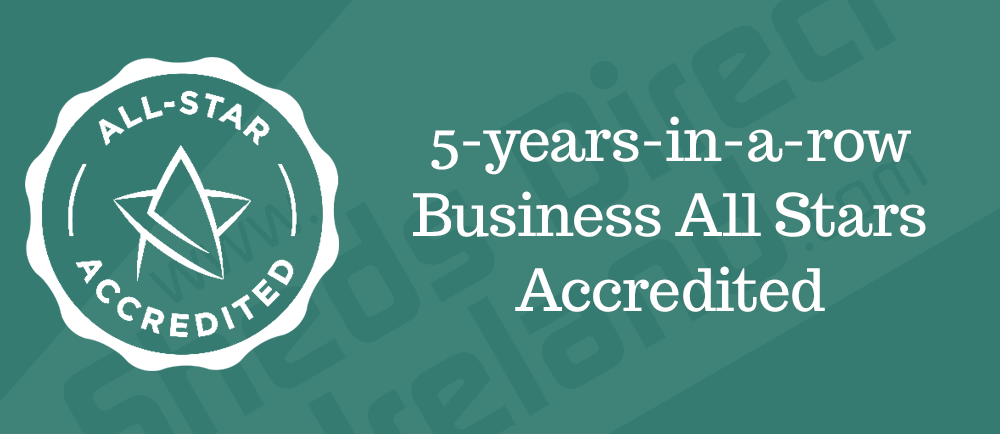 Find us in Finglas!
Visit our Showroom in Finglas. We're in the Jamestown Business Park and we're the first business on the right on the Jamestown Road side. See us on Google Maps.
Sheds Direct Ireland Opening Hours
Mon to Thurs: 9.00am to 5.00pm
Fri: 9.00am to 4.00pm
Saturday 10am to 4pm
Sunday – closed
Closed for lunch: 1 to 1:20 midweek
Steel Shed Collection Times
Steel Sheds can only be collected on: Tuesday, Wednesday, Fridays and Saturdays
Tuesday: 10.00am – 2.30pm
Wednesday: 10.00am – 2.30pm
Friday: 10.00am – 2.30pm
Saturday: 10.00am – 2.30pm
Agents
West of Ireland Agent:
Call Ned Delaney: 085 152 6951
Cork Agent:
Call Karl Dempsey: 086 821 7777