Description
The Ronan Heating: A Mountable Infrared Heater with Speaker
The Ronan Heating mounted heater with speaker is the perfect addition to any garden bar, dining area or gazebo. It's a plug-in radiant infrared heater that can connect to your mobile device via bluetooth, allowing you to play your favourite songs as you stay warm on chilly Winter days or long Summer nights. The Speakers are clear and smooth, so you don't have to worry about sacrificing audio quality while staying warm.
It can be mounted vertically, horizontally, or even hung from the ceiling, giving it fantastic flexibility to any location that it's needed it.
General Details
Unit Details
Dimensions: 137cm (W) x 18.9cm (T) x 6.7cm (D)
Net Weight: 8.3kg
Gross Weight: 10.2kg
Voltage / Frequency: 230V, 50/60Hz
Power: 1,800W
Package Details
Heater Details
The heater is an infrared heater, meaning that it provides instant heat. While other heaters heat the air, infrared heaters only heat the object that it's pointed at. There is essentially no wasted energy involved with these heaters. Infrared heaters are also, on average, 40% cheaper to run than standard electric heaters, according to EcoLivingExpert.com.
The manufacturer states that this Heater with Speaker offers germ resistance, so you don't have to worry about fungus or mould growth where it's mounted either!
Great for outdoor heating
Standard heaters like our Paraffin heaters heat the air around them. This is great in a place like an office, where you may need to heat up an unusually shaped room for a lot of people. However, if you plonk it outside, suddenly that warm air is swept away in a breeze and is rendered useless immediately.
As infrared heaters heat the object they're pointed at, they're ideal for heating up outdoor seats, bar tables etc, without wasting all your energy or costing you a fortune.
Power Modes
This heater with speaker has 4 power modes: 25% Power, 50% Power, 75% Power and 100% Power. Full power may be a bit much for most scenarios, but if the heater is mounted up high, it can provide a great amount of heat for a wider range of people.
Remote Control
The heat can be controlled through the included remote control. All audio is controlled via bluetooth, so you you can change songs and albums as easily as you would on your phone normally.
The remote control runs on two aaa batteries which are included in the box (they're in with the instructions)
Noise
Infrared heaters emit a small sound at start up, but after that, they are essentially silent. You don't have to worry about them adding any extra sounds to your music when it's playing. (Unless you're listening to Chris DeBurgh, in which case we'd recommend taking a hammer to it)
Movement
The heater can be rotated 45° on it's hinge. This is most beneficial when the heater is mounted horizontally as it allows it to be pointed and positioned at particular areas in the room. Mounting it vertically is possible, however, it should be 7'6″ from the nearest object in all directions (including when swivelled) for safety reasons.
Speaker Details
This is a '3D Stereo Sound Bluetooth Speaker' that connects to bluetooth. It works with both iOS & Android, so you can simply connect your mobile device up with it and change the songs from Spotify, Apple Music, Youtube or whatever audio you need to output. The Bluetooth connection maxes out at 6m, which is more than enough for most situations.
Depending on the model of your TV, you may also be able to use this Heater with speaker as a soundbar. Imagine, sitting out in the garden bar, watching Ireland win the world cup, all the while being kept warm from above while the Ole-Oles rain in on you.
Looking for some inspiration on what songs to play on your Heater with Speaker? Check out our playlist of songs to stay warm to!
What's in the Box?
You get:
Mounting Brackets
Back Plates
All necessary bolts & screws
Instructions
Remote control
x2 aaa batteries for remote control
waterproof cover for the unit.
Safety Notes:
Unit must be cold before weather-bag is applied.
It is important to keep covered when it is not in use.
Infrared heaters can become very hot during use (circa 300℃)
The lowest part of the heater must be mounted at least 220cm / 7'6″ from the ground

If mounting vertically, we recommend checking that the heater is 7'6″ from the nearest surface when it has been tilted on its rotating axis also.

The Ronan Heating must not be exposed to rain. It can be mounted outdoors, but it must be sheltered.
Assembly Dimensions and Instructions
Part 1.
Part 2.
Part 3.
Part 4.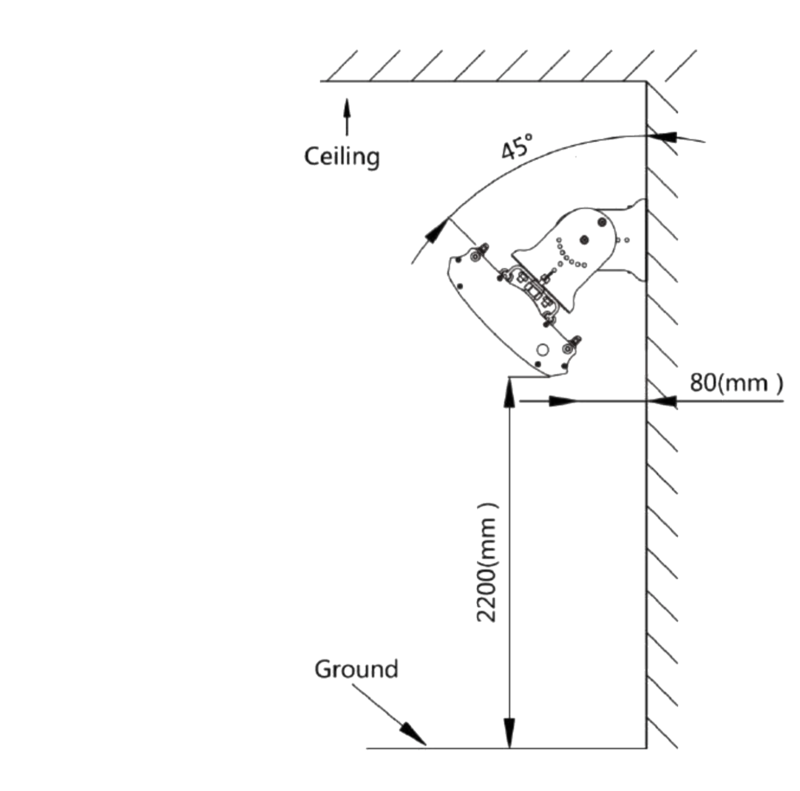 Contact Us
We can be contacted through the livechat function on our website during business hours. During these hours, you can also call us at (01) 864 4247 if you'd rather to speak to us. We're on Facebook, Instagram and we're over on Twitter too, if you'd rather shoot us a message on one of our socials.
Reviews (0)
Only logged in customers who have purchased this product may leave a review.