Bin Store
Keep your bins out of sight!
Keep your bins out of sight and out of harms way in this beautiful bin storage.
More than Bins!
Perfect for balcony storage, children's bikes, mobility scooters and a whole heap more. This tidy unit is as versatile as an egg (but considerably more spacious)
Opens up top!
Only access your bins (or whatever you're keeping in there) when you need to with the option to open up top, in front or both!


Description
Bin Store
Bins sitting outside your home can be unsightly. Worse still, they can be attacked by foxes, dogs or drunk weirdos during the night. The Metal Bin store offers solutions to these issues.
It's made with galvanised steel for a start so it'll take some effort to get into. With lockable doors, the Bin Store is an ideal outdoor storage unit. It's large enough to hold two 240 litre standard bins and because the top panel opens outwards, you can easily fill the bins during the week.
But it's not just for bins! Many of our customers are using this as a small, private outdoor storage unit. A mini-shed of sorts.  Common garden equipment like lawnmowers, shears, strimmers etc., will all fit into this unit. Many families also use it to store children's toys and larger equipment like goalposts or footballs. With two key-lockable doors, it can keep your goods safe from nocturnal critters (or nosy eejits).
The hinged lid has a gas cushion closing mechanism, so it will close slowly. Perfect if you're dumping your rubbish in and you don't want it to slam closed on you!
The metal exterior means it requires no maintenance; it's easily wiped clean and the vents on the side are multi-function. Firstly, the help keep the smell down by allowing air to flow through the unit. Secondly, they also prevent a build-up of condensation, to keep those metal bits in tip-top shape. This is before we get to the fact that it comes with a 5 Year Rust Perforation Warranty as standard. So you won't need to worry about rust holes popping up in this thing.
That's pretty handy, altogether.
See the Two-bin store in this YouTube Short.
The Bin Store materials
0.3mm Galvanised Steel Sheets
0.6mm Galvanised Hot-Dip coated high tensile Steel Frame
The Bin Store Dimensions
152cm Wide
101cm Deep
131cm Tall
*Metal Sheds are sold to the nearest foot and may differ plus or minus 10%*
Features
Large enough for two 240 Litre, Standard Wheelie Bins.
Key-Lockable Doors
Gas Hinge top opening panel (so that you can fill the bins without removing them)
Vented for airflow
Braced doors
Colour: Goose Grey
Assembly of the wheelie bin store by our team
The team will assemble your shed for you provided that you have a suitable base (see below).
The assembly team do not apply the screw caps or remove the protective plastic film. These are optional and it is the customers' choice to add/remove these if desired.
The assembly team do not assemble any other products other than the steel shed.
e.g. They do not assembly shelving units, canopies, carts or any other item purchased with the shed 
Base Requirements
All our Steel Sheds require a solid level base. Concrete, Paving slabs and Tarmac are all suitable. See more about what your base should look like here.
We advise that you lay a damp-proof membrane under your base to reduce the chance of condensation formation during the colder months.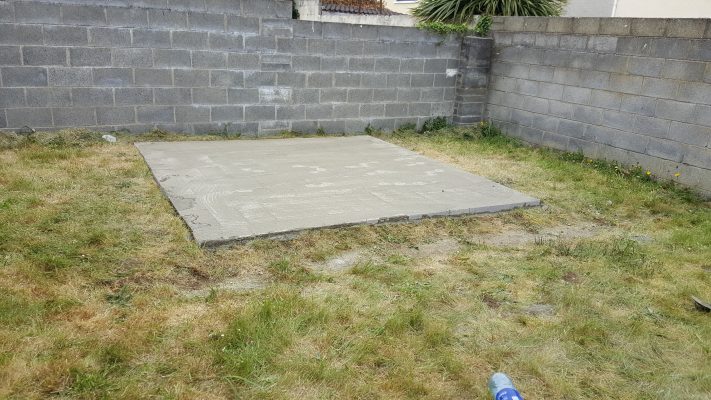 Wheelie Bin Store: Assembly details
This bin store is easy to assemble for those with experience in working with flat-pack items. Instructions, Screws, nuts and fittings are all included, however, you will need the tools to erect this yourself (drill, screwdriver). We would recommend that it would take at least 6 hours for those who have no large-product assembly experience.
We would strongly advise that two people put this unit together as it may be awkward or unsafe to do it alone. The large sheet panels can be cumbersome and difficult to align on your own and they can become very dangerous in high winds. We advise against assembly in windy, wet or otherwise unsafe conditions.
Important Notes
The Pictured Wooden Floor is not included with flat-packed sheds. Ply flooring only comes with the assembly option, which is not available in every county. 
You will need a solid, level base for this shed. It cannot be laid on grass alone. Please see our guide on how to choose a base should you need assistance. 
This unit must be bolted down. This will be your responsibility, even if you purchase the assembly option.
Doors & Lid must be kept closed when not in use.
Contact us at 01 8644247 or find us on Facebook if you've any other questions!
Additional information
| | |
| --- | --- |
| Flat Pack or Assembled | Flatpacked, Supplied and Fit |
| County | *Collection, Antrim, Armagh, Carlow, Cavan, Clare, Cork, Derry, Donegal, Down, Dublin, Fermanagh, Galway, Kerry, Kildare, Kilkenny, Laois, Leitrim, Limerick, Longford, Louth, Mayo, Meath, Monaghan, Offaly, Roscommon, Sligo, Tipperary, Tyrone, Waterford, Westmeath, Wexford, Wicklow |
Reviews (0)
Only logged in customers who have purchased this product may leave a review.