Can I connect two steel sheds together?
Can I connect two steel sheds together?
We've a nice short post for you today. 'Can I connect two steel sheds together?' The short answer is no and the long answer is also no, but it takes about 3 minutes more of reading to get there.
Why not?
Our steel sheds have overhangs on them. These overhangs have the gutters and outlet spouts are built into them. Pushing two sheds together just isn't an option, because the sheds don't end at the sidewall edges. If you wanted to push them together, they'd need to be fully redesigned from the ground up to allow the roof panels to line up when they are connected.
Here's what people envisage when they think of connecting their garden sheds: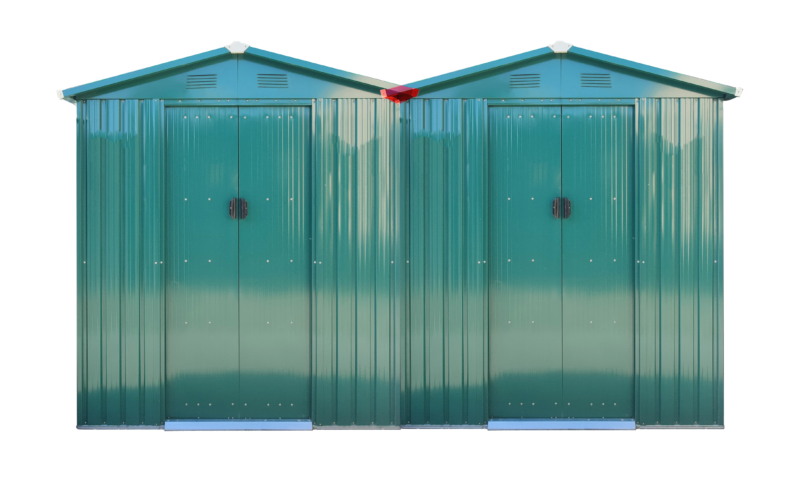 I've made the overlapping piece bright red. It doesn't look like much, but to accommodate it, you'd have to cleanly cut the overhang out for a start – and that's before you even get to the bracing and panelling required to hold it together, the issue of pooling water where you'd made them connect and the question of internal wall structure too.
As such, we do not offer a service or recommend that you even attempt to connect up two sheds together.
What if I just…?
Hold it there, you Kevin McCloud wannabe. You can technically do whatever you want with your shed – but we've had enough people drilling, sawing, and lump-hammering through our sheds attempting to connect them up to know that it's going to end in tears. The manual labour, precision and man-hours required to do something like this make it a fools errand; you'd be far better off buying a larger shed to begin with or getting another company to build a shed to your spec from the get-go.
No, listen. What if I…?
Remove the roof? Get rid of the wall in-between? Built them front to back? Back to back? Get rid of the doors and make a connecting port? Bend the bars and support them with an arched frame?
We've seen it – and been asked it all, unfortunately. They're just not designed this way. You would't stitch together your two pet Jack Russels because you want a bigger dog, would you? Don't go Frankensteining up our lovely sheds.
What's available?
Want to see what sheds we have available? Check out our range of Steel Sheds. If you've any questions about them, you can ask away on the livechat (bottom right), over on Facebook or you if you need more contact option, here is where can find all our other contact details.