The Balcony Store
Miniature but Mighty!
This is the Danny DeVito of storage. Miniature, Sturdy and drop-dead gorgeous. Unlike DeVito, it can hold all your garden tools with ease.
Galvanised Steel!
A 0.6mm thick steel frame, 0.4mm thick Galvanised Steel doors and 0.3mm Sheets add strength to this mini storage unit.
Description
The Balcony Store
The Balcony Store from Sheds Direct Ireland is perfect for cleaning up a patio, balcony or small plot. It's perfect for tidying up all the things that you might find in the typical Irish Garden. This mini-storage unit is unobtrusive in size and highly functional.
The Balcony Store Materials
The frame, bracing and gutters are made with 0.6mm thick galvanised Steel and they sit behind a 0.4mm galvanised-coated pair of steel double doors and a 0.3mm galvanised-coated sheeting. What's Galvanised Steel? It's steel that has had a coating of Zinc applied. This prevents rusting (providing the coating does not get scratched off)
While it looks like a changing room that you might see in Brighton, it doesn't come in a novelty colour. In fact, colour comes in the form of RAL 7016, Anthracite (It's a fancy shade of grey-black). It's far more understated than anything from a seaside town and it won't look out of place anywhere.
The Balcony Store Dimensions
This small shed is:
89cm Deep / 2'9″ Deep
153cm Wide / 5'1″ Wide
178cm Tall / 5'10" Tall
That's 1.4㎡ of internal storage. That's enough for 5 pieces of garden equipment like a shovel, a lawnmower, a large bag of briquettes, those rarely used weights, as well as a big ol' bag of potatoes (if that's your thing).
As with all our Steel sheds, in rare instances, they may vary +/-10% in size
Measurements are outside gutter to gutter

The Balcony Store self-assembly details
This shed is easy to assemble for those with experience in working with flat-pack items. Instructions, Screws, nuts and fittings are all included, however, you will need the tools to erect this yourself (drill, screwdriver).
We would strongly advise that two people put this unit together as it may be awkward or unsafe to do it alone. The large sheet panels can be cumbersome and difficult to align alone. They can become very dangerous in high winds, so we also advise against assembly in windy, wet or otherwise unsafe conditions.
Assembly by our team
The Sheds Direct Ireland can assemble this shed in most counties. Use the dropdown menus to see the price in your county.
The team will assemble your shed for you provided that you have a suitable base (see below).
The assembly team do not apply the screw caps or remove the protective plastic film. These are optional and it is the customers' choice to add/remove these if desired.
The assembly team do not assemble any other products other than the steel shed.
e.g. They do not assembly shelving units, canopies, carts or any other item purchased with the shed 
The Balcony Store Features
The Balcony Store has double hinged doors with a built-in key lock. It has a 2″ overhang, braced doors and two tool hooks are included as standard too.
While it's small, It's not going anywhere in a hurry, because there's a metal foundation, as well as a four-piece anchor kit included as standard. You can bolt this to almost any hard surface.
Base Requirements
All our Steel Sheds require a solid level base. Concrete, Paving slabs and Tarmac are all suitable. See more about what your base should look like here.
We advise that you lay a damp-proof membrane under your base to reduce the chance of condensation formation during the colder months.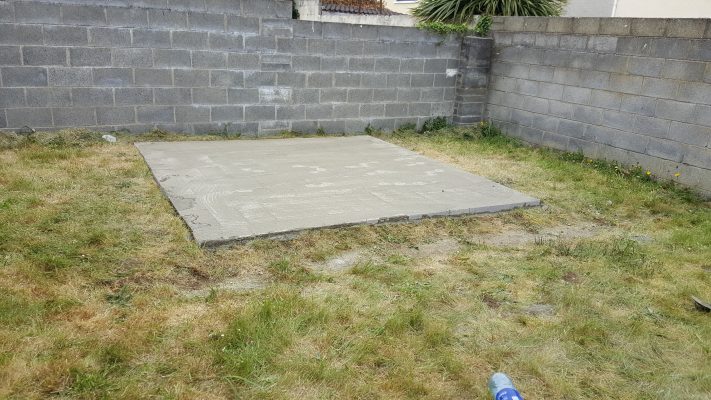 So if you're looking to clean up a small space, this mini shed is for you. It's available flat-packed from Sheds Direct Ireland in Finglas. Alternatively, we can post it nationwide for a small fee.
We also stock a range of other outdoor storage boxes. Check out the Patio Storage Box if you're looking for something similar, but a bit smaller (and with a cool cushion).
Additional information
| | |
| --- | --- |
| Flat Pack or Assembled | Flatpacked, Supplied and Fit |
| County | *Collection, Antrim, Armagh, Carlow, Cavan, Clare, Cork, Derry, Donegal, Down, Dublin, Fermanagh, Galway, Kerry, Kildare, Kilkenny, Laois, Leitrim, Limerick, Longford, Louth, Mayo, Meath, Monaghan, Offaly, Roscommon, Sligo, Tipperary, Tyrone, Waterford, Westmeath, Wexford, Wicklow |
Reviews (0)
Only logged in customers who have purchased this product may leave a review.