Is it worth buying a pressure treated shed?
Pressure Treated Sheds: Is it worth it?
When it comes to information on all things garden sheds, we feel that we have a strong expertise on the subject, and we often get asked about pressure treated sheds. If you're looking to buy a brand new wooden shed from Sheds Direct Ireland you might be asking yourself if this addition is worth the extra expense. Lets answer the question straight off the bat:
Is it worth buying a pressure treated shed?
Yes it is – provided that you don't plan on maintaining your shed annually, anyway. 
Let's look at all this in more details now.
What is pressure treatment?
Pressure Treatment is an application to timber that ensures the wood of your Wooden Shed stays in great shape for as long as possible. It's generally seen as an unnecessary investment by the average person, while people in the timber trade will often be heard to say "don't put anything timber in your garden that's not pressure treated".
In a nutshell, pressure treated wood will last considerably longer than untreated wood.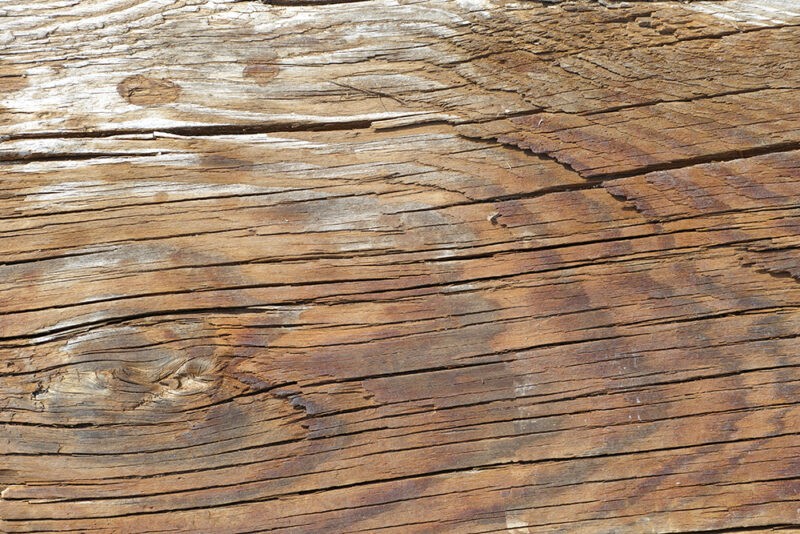 How is it applied? 
Firstly, the wood is dried naturally. Once all the moisture is removed, the wood is placed into a vacuum and the chemical preservative is added to it. Because of the pressure difference in the vacuum, the chemical is evenly passed through the wood to ensure a consistent finish. Afterwards, the excess chemical is removed via a very similar process.
How long will Pressure Treated Wood last?
In ideal conditions and if let wholly alone, without animal interaction, Pressure Treated would can last up to 40 years. For sheds in our climate however, it lasts for about 10-12 years on average, after which point in returns back to a very similar state to non treated wood. The difference in the time-frame is skewed by felt roofs.
Felt roofs are the first thing to break down on almost any wooden shed. When they breakdown, water can lodge on the wood panel below causing them to become wet. It treated wood is consistently wet or damp, it'll degrade (that's one of the reasons why your shed is up on blocks). So while your sidewalls might look grand, they can be deteriorating from the roof down, hidden from view. If you keep an eye on the roof, or better again pop a steel roof on top, you should get considerably longer out of treated wood.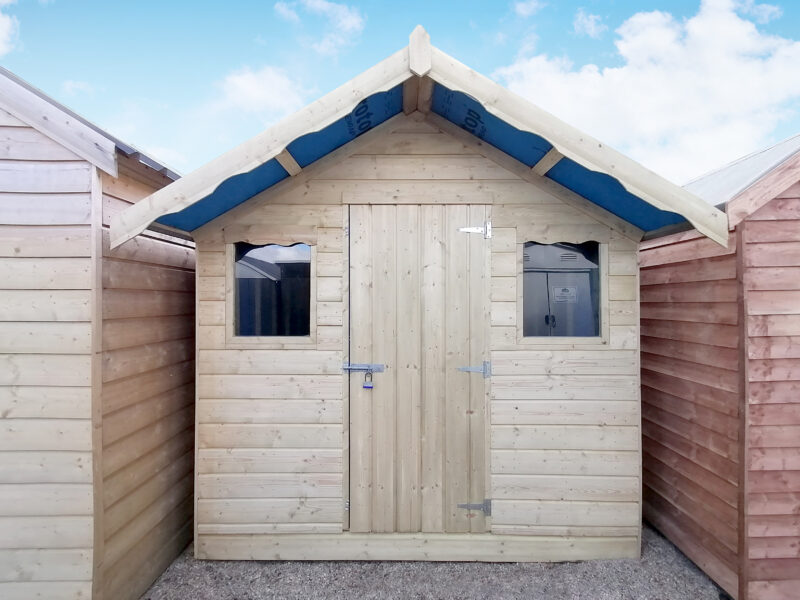 What are the benefits of a Pressure Treated Shed?
There's a substantial enough cost to pressure-treating a shed, so the benefits need to be fairly weighty to justify it. Thankfully, they are. They include:
Irish Weatherproof
Once you get your wooden shed pressure treated, it can withstand almost anything that the Irish weather wants to throw at it. It will be protected from dampness and rot and it will add years to your sheds expected lifespan. Again, this is dependent on the wood being not consistently wet, so make sure it's on blocks and that the roof hasn't deteriorated. Side note: If you really want to add years to your shed, pop a steel roof on it too.
Less Likely to warp
Raw wood is likely to expand, especially during the spring and summer months, according to the team at This is Carpentry. This can lead to non-fitting doors, leaks and gaps around windows. This issue can be avoided with a pressure treatment, as treated wood is a lot more resistant to contraction/expansion.
Vermin Resistant
First off, it's important to notice the difference between 'vermin-resistant' and 'vermin-proof'. With that said, providing that your wood has no soil contact, it should be perfect to keep rats, insects and the rest of the furry brigade at bay. It means you won't have to worry about opening your shed door to find vicious monsters like this in it: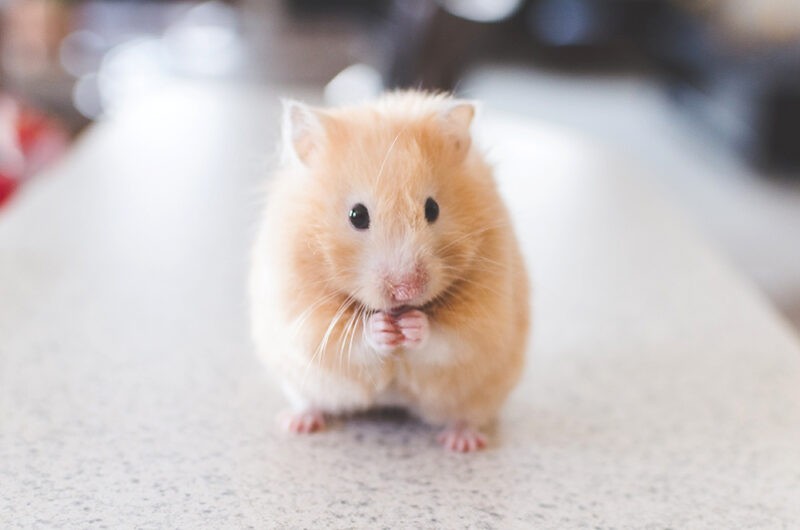 It's important to note that Pressure Treated wood no longer contains arsenic. Many, many years ago, pressure treated wood contained this dangerous chemical, which is effectively rat poison. Some older generations will associate pressure treated wood as being great for deterring rats, but dangerous for family pets, however arsenic is no longer used in pressure treating shed.
Maintenance free
If you plan on treating your shed every year or anytime you notice growths on it, more power to you. However, if you want the easy life with your shed, pressure treated wood is essentially maintenance free!
Internal Lining*
Pressure Treated Deluxe Sheds and Barrel Board Sheds (which are pressure treated as standard) come with an internal blue lining. This will prevent the internal temperature of the shed from changing drastically, reducing the chances of condensation forming.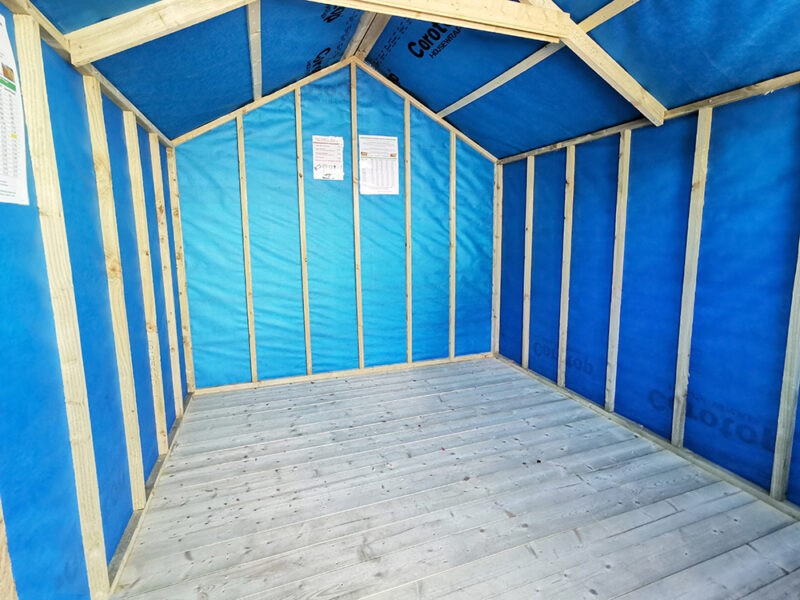 Rustic Pressure Treated sheds do not have this membrane. As Rustic wood is an overlapped board, it is quite porous. As such, water can seep into rustic sheds relatively easily. The lining would be damaged and made redundant in less than a year in a rustic shed. 
Pressure Treated Sheds are cost-effective (in the long run)
If you look at the big picture, pressure treated sheds are a fantastic investment. Pressure treated wood can last for decades – in fact many people will tell you that the wood will long outlive the felt roof on any shed. As one user on boards.ie put it:
We have some pressure treated fence panels in our garden that have been there since the house was built in 1995, have never been painted / treated in any way, and they're still in perfect condition. Personally I'd never bother with non-PT timber for anything that goes into a garden.
What are the downsides of a Pressure Treated Shed?
Everything has a downside and pressure treated wood is no different.
Colour Fade 
Over time (months to years), your pressure treated wood will fade to a grey-ish wood colour. Look at the image below to really understand the difference between the two.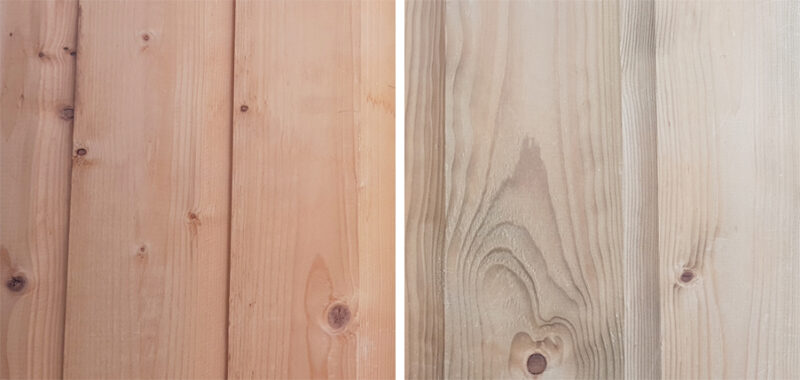 Expensive
We've already stated this, but pressure treating timber is an expensive process. We don't make any extra money on wood that is treated, so the increased price-tag is because of the cost of pressure treating the wood. Pressure treated wood can be upwards of 30% more expensive than non-treated wood however, so
Toxic if burned
We are not condoning the burning of any wooden shed when it's outlived it's course, let's get that cleared up straight off the bat. However should your shed be subject to burning, it can release toxic gases which could be fatal. Be careful with naked flames or other combustibles near all wooden sheds and take particular care to not inhale any fumes from a pressure treated wooden shed, should it ignite.
Remember, if you're getting rid of an old shed and you're replacing it with another one, our Wooden Team can take apart your old shed and recycle the boards that they take away. Contact us with the size of your current shed for a price on shed removal.
Summary
It's fairly obvious that Pressure Treated wooden sheds are the way to go. However, Pressure Treated wood can add upwards of 30% to the cost of larger sheds, making it a big decision. To many, it's an obvious choice (buy cheap, buy often), however to others manually treating their shed with varnish etc., every year isn't an issue. To others still, the shed isn't an essential item in their garden and should it deteriorate after a few years, that's not a big issue.
This is your decision however. We've given you the details, you just need to decide.
Still Unsure?
Don't worry, if you have any further questions, our brilliant team would be more than happy to assist you any way we can. You can call them at 01 864 4247 during business hours. You can reach our social media team quickest on Facebook should you rather type to us!