Shed Flooring – what's the best option? (Aug 2023 Update)
Shed Flooring
When you buy a steel shed flat-packed from almost any shed company in Ireland, you may not be aware that you don't get a floor with the shed itself. The good news is that if you get a Steel Shed assembled by our whopper assembly team, they'll cut a ply floor to size and install it as part of the service. But sure that's no use to you if you're going at it alone. If you're self-assembling, you might want to know what is the best option for flooring in your shed is. If that sounds like you, read on to see what your options are.
Floor options
Plywood
Plywood is a super common flooring for Steel Sheds. Plywood is generally cheap, durable and most of the time it's readily available in any hardware store or builders supplier. There are lots of options available with Plywood. You can get anything from the cheap and cheerful up to the likes of a Marine Ply which at the time of writing can cost about €110 a sheet. Plywood has a neat look (often taking on the appearance of whatever the top layer of wood used is) and there are various weights available. We'd recommend no less than 18mm for ply flooring.
You could do much worse than put a plywood floor for your shed, but it's not our preferred option.
OSB (What we use)
OSB is technically not plywood, but they are very similar. OSB is made with strands of smaller pieces of wood pressed together. It has a unique appearance.
OSB is often cited as being 'great for the environment', because it uses strips of otherwise unused wood and because it contains negligible amounts of formaldehyde, compared to Plywood. That said, since 2019, most plywoods have drastically reduced the amount of formaldehyde in them anyway. But we're getting side-tracked. OSB uses other strips of wood compressed together to get its unique look and rigidity.
OSB is generally very affordable and it is available in larger panels, making it our preferred option. We use an 18mm SmartPly OSB board which you can pick up for about €25-€30 a sheet. These sheets are generally 8ft x 4ft and they will need to be cut to size to fit in your shed.
Concrete
As far as shed flooring goes, this could be the nuclear option. So, okay, yes, you can just pour concrete into your shed and level it out to make a simple, hard floor inside. HOWEVER, you really need to know what you're doing before you attempt this. This isn't something for the weekend handyman or handywoman.
Pouring concrete directly onto our steel floor frame will cause the frame to rust prematurely and this rust can spread throughout your shed. This is because of a pH imbalance between the two. You can read more about the science of it here if you need to, but all you need to know is that it could be a disaster for your shed if you don't
We don't advise the pouring of concrete without taking the appropriate precautions first; speak to your local builder supplier to see what they recommend. As this is something that we don't advise you to do, our rust perforation warranty doesn't cover metals that have rusted as a result of concrete exposure.
Click-Decking / Interlocking Tiles
Becoming increasingly popular, Click-Decking or Interlocking tiles are an option that we are aware of, but that we've limited experience with. While it does provide an attractive finish, you would need to be aware of where you're sourcing them from – and what size you're filling.
Ikea make a great solid set, however, cheaper versions from other online stores, may not be suitable for use in a shed. These tiles are generally not easily cuttable, so you could be left with a weird gap to one or two sides of the shed if it doesn't neatly fit the inside completely. From a business point of view, we don't recommend these.
Rubber Mats
Arguably the most 'ah, sure it's grand' approach, rubber mats are actually very useable. They can be plonked into place easily, they're usually gripped on both sides to prevent slipping and while they're not attractive, they're not totally unsightly either.
They'd be sitting on your internal floor frame and they'd add no raise to the inside of the shed, but if you just need a barebones approach, these might be the quick-fix that you need.
Carpet
Ew. Gross. No.
Vinyl Flooring / Lino
Sheet Vinyl Flooring is one of the less common materials used as shed flooring, you may be surprised to hear. While it's easily cut to size and not too pricey, Lino can pose a few headaches if used as a shed flooring.
For example, Lino can trap moisture under it, and even with a damp-proof membrane under your base, it can be a breeding ground for mould in the future. Similarly, while lino would be just thick enough to cover over the internal frame in the shed –  it may just be hiding a trip hazard if you don't get some sort of underlay under it.
No Floor
Many of our customers who build the shed themselves forego the internal flooring entirely. The floor isn't really necessary, however not laying a floor will mean that the floor frame will be visible and may pose a tripping hazard. The floor frame looks like this in most of our Steel Sheds: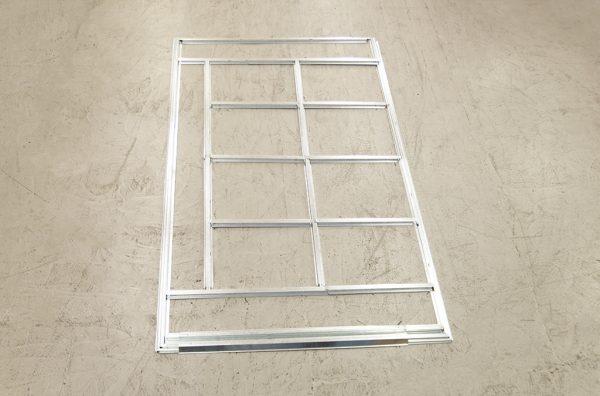 The no-floor approach isn't recommended if you will be using the shed regularly or if it will be used by anyone with mobility issues.
Shed Flooring: The Final Word
What you want to use as shed flooring is a personal choice. We recommend 18mm Smartply OSB board as it's affordable, readily available and thick enough to walk on too. However others forego the floor entirely and some people go the extra-mile and put in all sorts of weird and wonderful floors. If you have any ideas for flooring, want to show of your solution or want to pick our brains, let us know in the comments below!
You can get in touch with us at 01 864 4247 or you can message us on Facebook, Twitter or Instagram if you want to get in touch and discuss flooring options for your shed.