Woodgrain Sheds
Our Woodgrain Metal Sheds all come with a 6 year Rust Perforation Warranty
Minimal Maintenance is required on these sheds
They're CE approved. These sheds meet all European Health & Safety & Environmental Protection Standards
All our Woodgrain Sheds are measured gutter to gutter (i.e. the widest points) and they may vary in states size by +/- 10%
Our Woodgrain Metal Shed Range
What are Woodgrain Sheds?
Woodgrain sheds are Metal Garden Sheds that have the appearance of Wood. They have all the benefits of a Metal Shed (virtually no maintenance, air vents, gutters etc.), but they look more inviting than a standard steel shed.
It's important to remember that Woodgrain Sheds are budget sheds, they're about half the thickness of our Classic Range of sheds, or about a quarter as think as our Heavy-Duty ones. If you don't need something overly structurally robust, the Woodgrain shed might be the shed for you.
Metal Woodgrain Sheds in Dublin – Delivered Nationwide
If you are searching for a Metal Woodgrain Shed in Ireland, look no further. Sheds Direct Ireland deliver Galvanised Steel Sheds across the country. We're based in Dublin and can send our sheds flat packed across Ireland. Made in a variety of sizes and styles, as well as coming with an 18 year rust perforation warranty as standard, our Garden Sheds are tough to beat.
To make sure we offer the highest quality product, with the best possible warranty, at the cheapest possible price, we sell our sheds flat packed with instructions for you to assemble (but we can also assemble your Steel Garden Shed if you need us to!)
And don't forget to keep your eye out on our Facebook page for any competitions or specials we run!
Important details for Woodgrain Metal Sheds
Woodgrain sheds are thinner than our Classic Range of sheds
They are a budget range of sheds
The woodgrain effect is applied via a thick sticker. This can scratch or scuff easier than steel sheds and as such, surface-level scratches may occur during assembly or over time. 
We can offer assembly of our Metal Sheds in the following counties: Dublin, Meath, Louth, Armagh, Cavan, Longford. Westmeath, Offaly, Kildare, Wicklow, Laois, Carlow, Kilkenny, Monaghan and Wexford
A 6 year rust perforation warranty is offered on these sheds.
All shed measurements include the 2" overhang required for the side guttering.
Sheds are sold to the nearest foot and may differ plus or minus 10%.
All Steel & Metal Sheds are measured Width by Length. e.g. A 6ft x 8ft shed is 6ft Wide and 8ft Long.
All our sheds are delivered flat packed. We can arrange an assembly of the shed, but it is important that you call us before ordering to discuss this.
Wooden Flooring is sold separately and not included with any steel shed as standard. It may be visible in some pictures, however this is for illustrative purposes only.
Please note
A solid level base is required for all steel sheds. It is the customers responsibility to have this in place prior to assembling your shed.
Steel sheds fitted do not include bolting the shed to the surface, as we can not be responsible for what is underneath the surface, i.e. drains, electricity etc.
Sealing your steel shed to your base is the customer's responsibility.
For Insurance purposes, assembly of our steel shed range is weather permitting.
You will need to bolt this shed to your surface. Our team cannot do this for you due to safety concerns (underground waters, mains, cracking concrete etc.)
All of our sheds are supplied flat packed for self-assembly. They all come with predrilled holes, instructions and all required nuts and bolts. If you're having any issue, we also have a team of fully trained customer service agents that will be able to talk you through any problems you might encounter.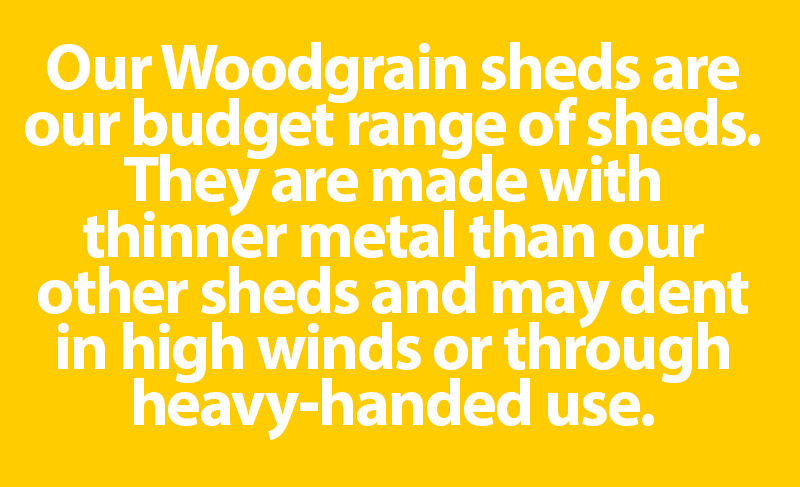 Looking for something else?