Everything you need to know about awnings
We get asked a lot of questions about our Awnings and because we're smart, helpful, attractive folk, we keep note of them all. We're here to make a mini-FAQ for you if you have questions about your new awning. We'll answer with our Awnings at the fore-front, but we'll also give generic advice for awnings in general. Let's begin.
Can awnings be used in rain
A smart question to begin with. This is Ireland and, look, we all know that it rains here. Thankfully our awnings are designed with the Irish climate in mind. In fact, most awnings on the market are designed to withstand your normal-everyday sort of rain.
The main weather to be concerned about is high winds: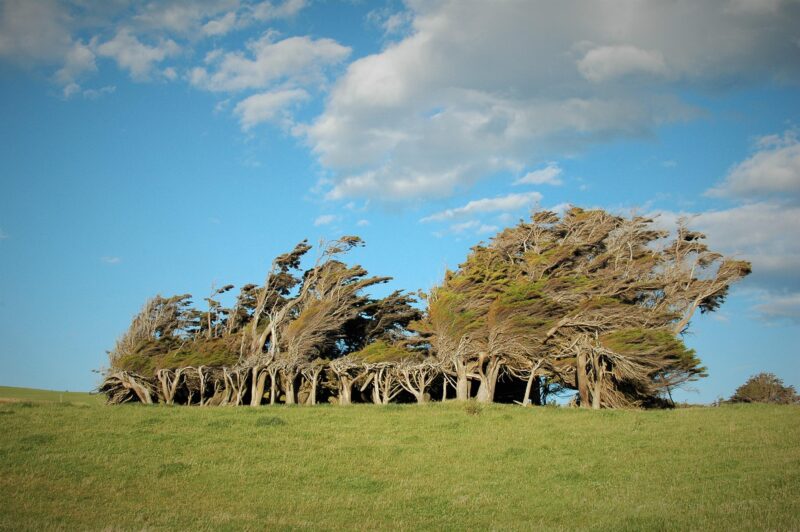 Can awnings withstand wind?
Well, I walked myself into this one. Yes, providing there is no MET Office official weather warning, our awnings will stand up to most high winds that are thrown at it, but obviously, they should be retracted during high winds. This is where retractable, cassette awnings come into their own. Below we've shown the difference between the support bars between the leading online retailer for awnings and ours. Larger, thicker bars that contract into themselves are more likely to withstand high winds (even when open) compared to the thinner bars on our competitors product.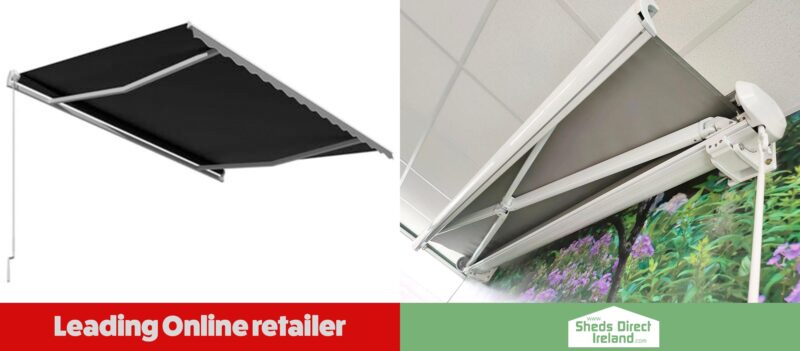 Just look at the difference in weight between these two. One is going to last a helluva lot longer than the other (and there's only €60 between them too). It's also worth noting that how well it stands up to wind comes down to how well it has been mounted. Correctly fixing your awning to a solid, smooth wall using the right tools and equipment will keep it in place.
Can awnings be painted?
Our ones can't. Well, I mean you could technically paint anything, but these won't take painting very well. Most canopy fabrics have a polyurethane coating to make them waterproof and flexible. This doesn't lend itself well to additional coatings, particularly retail-ready paints.
If you knew your paints and coated materials, you may source something suitable, but by all accounts these are not made to be painted.
Can awnings be power washed
Technically, yes, they can. However you should be skilled with pressure-washing fabrics before you begin attempting this. We'd recommend getting a specialist pressure-washing company to do so. If you're going to do it yourself, you're doing it at your own risk and you should go into it more prepared than this guy: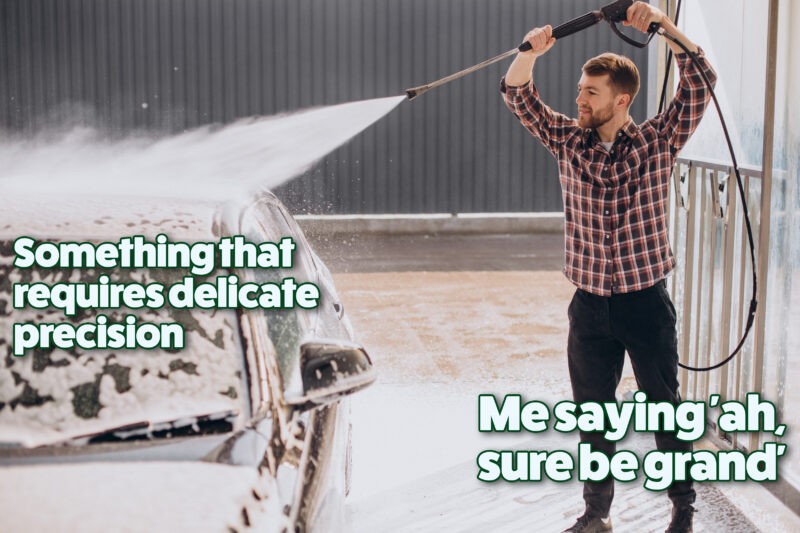 Online pressure washer retailers recommend that you first gently wash with detergent and allow it to partially dry before using a power-washers with a low PSI and a low-pressure fan-shaped output nozzle. Even if you don't tear the fabric with a power washer, you may scar it or remove some of the protective coating from it.
What are awnings made of?
Our awnings are made in two parts.
The casing is made with a rust-resistant aluminium which is powder coated. Aluminium is an ideal material for awnings. It's lightweight, naturally resists corrosion and it keeps the costs down, according to LanaiGuy's take on the issue of aluminium vs other metal awnings.
The cloth part of our awnings are made with a relatively heavy, waterproof fabric. It's 100% polyester and it has a PU coating which has been UV treated. This fabric is water-resistant, lightweight and nice and flexible.Providing you don't over-extend your awning or shunt it back and forth, it shouldn't tangle or crimp.
Other companies' awnings are made with wildly different materials; Whatever you choose, we recommend that you get something lightweight, water and UV resistant at the very least.
Can they be mounted to a camper van?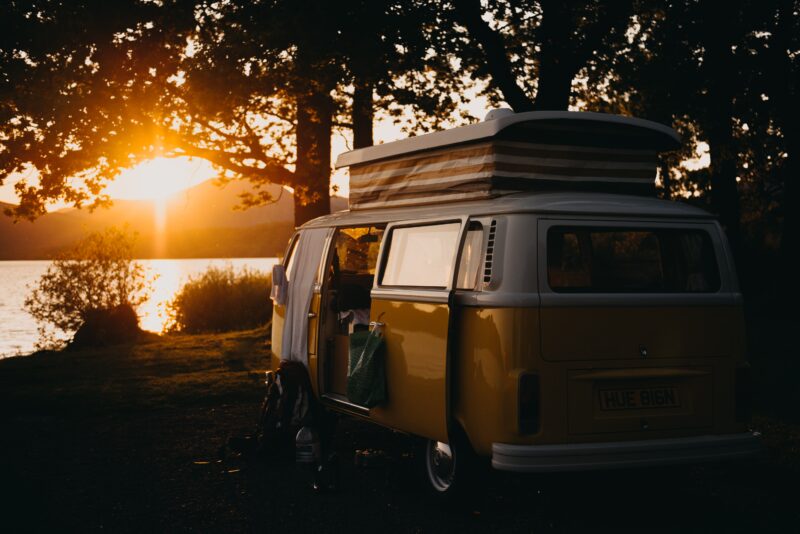 I wasn't aware of the campervan mega-fans that existed in Ireland, but you all want to know can these awnings be mounted on your little baby. We've been advised that they cannot be mounted onto campervans, due to their weight and the fact that they need a fully flat-surface. The bolts tend to be too large for most campers too – you can see the spec on these here:
What's wrong with Electric Awnings?
For the most part, nothing. If and when they should break however, they're not easily fixed. Repairing an electric awning can be a bit of a pain in the bum as doityourself.com illustrates. If it's not a simple fix, you'll most likely need replacement parts. Replacement parts can take time to source, be delivered and they may not be a simple installation process. As such, we don't stock electric awnings. Simple to open manual awnings are all you need. Sure, the parts in ours are aluminium, so they're lightweight to the extent that even your granny could open and close them without hassle.
Still have some questions?
Aye, probably you do. You can ask us over on Facebook or send us a tweet with it and we'll answer it (and update this post). If you'd rather call us, we're at 018644247.