Which Sheds last the longest?
Which Sheds last the longest?
One of the most common questions that we get here at Sheds Direct Ireland is "Which Shed will last the longest?'. This is completely understandable. As you are spending a considerable amount of money, you're going to want to know how long your investment will last in your garden. This question can be tricky to answer as a lot of factors influence the life-span of the shed such as weather, damage, treatments and so forth. In saying this, we're going break down it down the best we can for you.
All Sheds will last longer if you take care of them:
Before we even think of talking about which shed has a longer life span, we must first stress the fact that all sheds are going to last longer if you make the effort to look after them. Steel Sheds require a lot less effort to maintain than wooden sheds, which I'll discuss in more detail later, but they need some caring for too. Simple things like keeping dampness out, dealing with scratches, avoiding creatures getting into them can add 10+ years onto your shed without much effort. Lets look at the ways in which you can make your shed thrive in the years ahead – and we'll start with Steel Sheds
Steel Sheds:
The beauty of steel sheds is they require very little maintenance. If you get a solid, level base built correctly, you're already onto a winner.  There are some things you can do to prolong a steel shed too, such as:
Deal with those scratches and dents
Sometimes scratches and marks on your shed can be inescapable, however that does not mean they should not be treated as soon as possible. Although they may not look like anything major at the beginning, they can become one massive problem over time. Consistent rain can eat away at the scratched area, leaving your shed exposed to the elements over time. Before you know it, rust will begin to appear in your shed and you'll be wondering where it came from.You can see in more detail how to maintain your shed by reading our blog, Steel Shed Maintenance.
Buy a thicker shed to start with:
The overall thickness of your steel shed will play a key role in how damaging these dents and scratches can be to your shed. Each style will have it's own specific thickness that will determine how durable and robust the steel is. For example, a heavy duty steel shed is going to be able to withstand a lot more than a budget range shed. Here at Sheds Direct Ireland, we have four different styles that vary in thickness.
In order of thinnest to thickest, our sheds would rank:
Woodgrain Sheds (.25mm)
Classic Sheds, Pent Sheds, Cottage Sheds (.33mm)
Premium Sheds (.5mm)
Heavy Duty Sheds (1.5mm)
It may not seem like the biggest gap between some of our sheds, but there's a notable difference in them when you get your hands on them. You can see a video comparing our thickness in practical terms on the bottom of this page over here.
Keep the moisture and condensation out:
Condensation and moisture in a steel shed can be an awful pain. It can not only damage the goods you've stored in your shed, but it can also cause the shed to rust and decay. Don't you worry though, it's all very avoidable with a few simple steps.
Lay the base of your shed correctly with a damp proof membrane: We would strongly recommend laying down a damp-proof membrane at the beginning of the base laying process. This will help prevent moisture rising through the base during the colder months and in turn this will greatly reduce the chances of condensation forming in the first place. Once you've the membrane secured, you just need to ensure that your base is solid and level. 
Keep your vents clear: Ventilation plays a crucial part of ensuring condensation doesn't form. The great news is that you need to do very little here; keep your air vents clear and unblocked. If the vapour can escape, condensation can't form.
Try not to store items that generate lots of heat in your shed: We hear of more and more of our customers using their sheds as Utility rooms. This is a big no no. Washing Machines, Dryers and other white goods are all being moved out of the house and into the shed. This is great for the house, however not so great for the shed.
Wooden Sheds:
How long Wooden Sheds will last is a lot more complicated than Steel Sheds. They require a lot maintenance and the style of wood you choose will determine how much maintenance is needed. If you decide to go with an untreated shed, you will be looking at varnishing and wood care on an annual basis. This can suit some people, who wish to change the colour of their shed annually. However, if you are looking for a wooden shed that doesn't requires regular upkeep, you'll definitely want to go with a pressure treated wooden shed, which doesn't call for annual care. This pressure treatment comes in at a cost, which can be substantial in larger sized sheds.
Wooden Shed styles: 
Here at Sheds Direct Ireland, we offer three different Wooden Shed Styles. You can view all our wooden sheds here: Wooden Sheds
These styles are:
Rustic
Deluxe
Barrell Board
A quick summary is that Rustic wood would have a slightly lower life expectancy than Deluxe/Barrell Board which is why they are significantly cheaper. Rustic sheds are made with overlapping boards, which allows dampness and wetness to get in easier. As such, they can't be lined with the internal blue membrane. Because of this, if moisture gets into these sheds, it can lead to mould formation. This is one of the major reasons why Rustic Sheds will not last as long.
If you are looking for a more detailed breakdown of our wooden shed types, you can have a quick read off this : What's the difference in wood types for sheds?
Wooden Shed Maintenance:
Pressure Treatment: In good conditions and with animal interference, pressure treated wood can last up to 10-12 years before needing to be reapplied. Of Course, pressure treatment comes at a significant cost but if you want your shed to be around for the long haul, they're a no brainer. Pressure Treatment protects the wood from damaging factors such as Irish weather conditions, warping, and unwanted vermin. Pressure treatment is definitely worth every penny in the long run and many consider the added price the cost you pay for a longer lifespan.
Use the correct blocks: Every wooden shed should be built on blocks, and almost every wooden shed is. There's a massive reason for this. Wooden Sheds must avoid contact soil and grass at all costs if it is going to stand tall in your garden for years. Think about how much it rains in Ireland? If a wooden shed is exposed to grass/soil, the moisture produced from the rain will travel up the wood and cause it to weaken and decay. You can see how many blocks your wooden shed needs right here.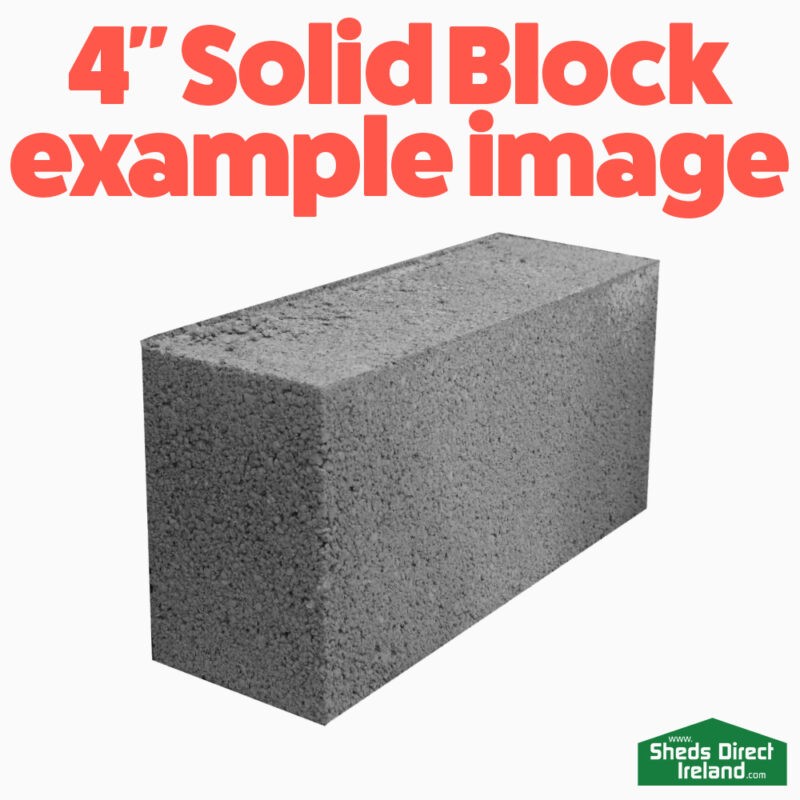 Keep your shed away from the wall:
No shed sits flush to a wall – the vast majority of sheds have gutters or small overhangs on the roof, which cause a gap of some description. This small gap opens you up to a whole load of problems. It will either block the ventilation that your shed needs to avoid moisture build up or will become a lovely little home for unwanted creatures such as rats, spiders,etc. We recommend that you keep enough room to comfortably fit a sweeping brush along the shed to sweep out any unwanted build up.
Roof Choice: 
If you are looking for your new wooden shed to last you a life time, the roof choice is one of the most important decisions you'll make. Despite a standard felt roof being the most common option, this will be the first to go. It's the part that gets hit the most with rain, snow etc., and it's not as robust as the wooden planks that make up the body of the shed. So over a decade or two, it will invariably begin to break down, unless it's treated and repaired before it's beyond the point of no return.
Steel Roofs however, as you can probably imagine, are much more durable. All our steel roofs are galvanised which means that can last between 35 – 170 years!! Your grandkids' grandkids will be admiring your gorgeous wooden shed if you look after it.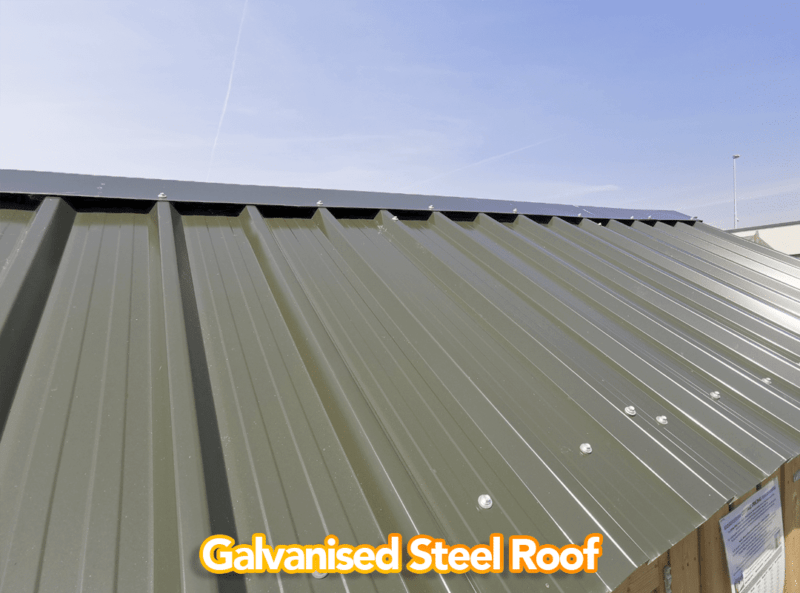 Chicken Wire the exposed side of your base: 
On most wooden sheds you are going to have one side of your base exposed in order to leave a minor airflow for around the base your shed. This is essential, however it can be easy access for rats and other unwanted creatures to nestle deep into the root of your wooden shed. These little stinkers can bring in food, or just poop away in such amount that it can rot and cause a problem for the base of our shed. This can be the Achilles heal to your sheds life span which is why we recommend installing chicken wire on the exposed area to keep the vermin out and away from your beautiful shed. It's also advisable to not store foodstuffs in your shed, or if you must, to store them in thick, solid containers that won't emit odours or be easily gnawed through.
Conclusion: 
Wooden Sheds can look absolutely gorgeous in your back garden, especially because you can customise them exactly the way you want. Saying this, if you want them the last you a life time, they require a whole lot of maintenance, an abundance more than steel sheds. If this is something you love doing (which a lot of people do), then a wooden shed can be perfect for you. If you don't have time for consistent maintenance, maybe steel sheds are the best option.
If you have any questions, you can contact us on Facebook, over on Instagram or you can Tweet at us and our team will get back to you as soon as possible with an answer to your shed question. Alternatively, you can call us during business hours at (01) 864 4247 and the sales team can talk with you.