Slabs for a shed base – how many do I need?
Slabs for a Shed Base: A simple solution
If you're considering purchasing – or have just purchased one of our fantastic Steel Garden Sheds, you might be looking at getting your base sorted before the shed arrives. While poured concrete is the ideal solution, Paving Slabs are a quicker, less messy, suitable alternative. How many you need, as well as the process of laying them might seem like a big task, but it isn't really.
Read on to get yourself ready for your shed.
How Do I lay them?
We have a simple guide on how to lay your slabs over here. Providing that you follow the instructions and give yourself enough time to complete the task, it shouldn't be much hassle. If you're looking for good examples (and bad examples, like the below) you can also find these on our website here.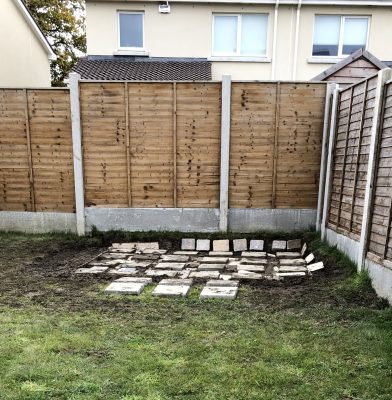 Slabs for a shed base: How Many do I need?
We've made up the below guidelines which are based on 2ft² slabs. Simply find your shed in the left column, and scroll across to see many slabs you need!
Shed Size
(W x L)

Slab Base Size Required
(W x L)

No of slabs required
(Based on 2ft / 600mm x 600mm slabs)

10*12

11*13

42

10*10

11*11

36

9*10

10*11

30

8*10

9*11

30

8*6

9*7

20

6*9

7*10

20

6*5

7*6

12

5*6

6*7

12

4*6

5*7

12

Cottage 8*6

9*7

20

Cottage 10*6

11*7

24

Cottage 10*7.5

11*8

24

Panoramic 10*9.5

11*9

30

Panoramic 8*7

9*8

20

Tiny 

5*5

9

Bike

6*7

16

Bin 

6*4

6

Balcony 

3ft * 5.5 ft

6
Who Sells them?
You won't be stuck finding people who sell paving slabs online. We work closely we the good folks at Murdock Builders Merchants in Finglas, who have been very helpful over the years. They have stores nationwide and they're a great place to start with.
Can Sheds Direct Ireland install them?
Our assembly team don't offer base installations. As we ship our sheds nationwide, there isn't one company that we could recommend for your base, either. If you feel that laying the base is too much for you, we'd recommend touching base with your local builder's supplier or hardware store and seeing if they can recommend someone to help. Most of them will have someone that they know of who might be of some use!