Converting your Garden Shed into a gym
Converting your garden shed into a gym
Well folks with a new year approaching, new year resolutions are sure to follow, with many hoping to trim down on their Christmas turkey. Many will look into gym memberships, but with many working from home why not do the same with your exercising, by converting your own garden shed into the gym of your dreams. A garden shed is a great option that many people are looking at now as a way to get your daily exercise done without having to trek all the way to a crowded gym in January, however before investing there is plenty to be aware of to ensure that you don't regret getting the wrong shed.
Your Sheds Interior and Dimension
Size
When it comes down to the design of your gym shed, there is no one size fits all. It really depends on what you want to do regarding your exercise and the equipment you look to use. For those with a minimalist approach you would be able to fit a nice gym in a 8ft x 6ft shed. For those looking to include anything and everything you would find at a regular gym you'll need a much bigger shed, probably with dimensions anywhere between 9ft x 10ft to 14ft x 14ft in order to get all your bits in.
Floor
Regarding flooring, if you intend to put heavy weights in your shed you're going to need a strong base that will be able to take the pressure.  Before shed assembly be sure to tell the fitter(if you get one) the purpose of the shed. For wooden sheds extra beam supports will likely be necessary, with steel sheds you're going to need a concrete base for it anyway which should have you sorted. Regardless of the weights you use, you're going to want to get gym floor foam in order to protect your weights and the base, as it may do damage over time. It will also stop your neighbours barking at you for causing a racket for dropping heavy weights on the ground.
Height 
The height of a shed will be dependent on the individual. To be safe we recommend anywhere between 7ft-9ft in height, this will give you plenty of height to ensure you can do your pulls up without banging your head off the roof.
Steel Sheds are not a great option
When thinking of an appropriate shed for a gym, many would normally think of a steel option, however steel sheds are actually not great when it comes to a gym. The major reason being that steel sheds aren't that fun to be in during extreme weather conditions, imagine it freezing cold in an Irish winter, well the inside of a steel shed is going to be alot worse. Not to mention the weights and equipment you have will likely be icicles when you touch them. Electrical equipment such as treadmills will not fare too well either. You can insulate it however they're just not as good compared to alternative wooden ones.
Benefits of Wooden Sheds.
As mentioned above the major issue with steel sheds comes down to insulation, this issue is far less prominent with wooden sheds. Other benefits include that they're also much better ventilation wise, which you will be grateful for during those exhausting exercise sessions when you're gasping for air. Probably their greatest attribute would be how wooden sheds are far more customisable compared to steel options, which for most parts are pre-made to design. We offer customisable options here at Sheds Direct Ireland and we can create a shed that fits your workout needs.
Our recommended Shed.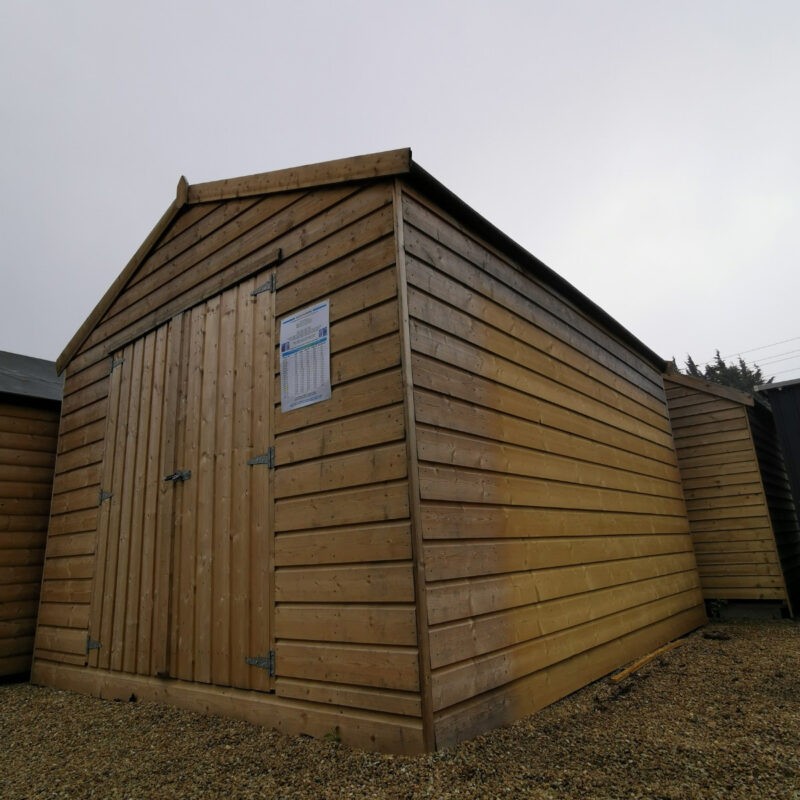 With all that clarified the shed that we at Sheds Direct Ireland feel will fit the criteria of most gym enthusiasts and would work as an all rounder, would be our tall wooden shed. The shed is exactly what it says on the tin, it's tall, with a height of 8ft, you shouldn't have any issue banging your head and like all our wooden sheds you have the option to pick the dimensions to fit your needs making it the ideal shed. We would always recommend double doors enabling the ease of moving equipment in and out of the shed.
                      Plenty of room for activities 
Well thats all folks, hopefully this will be of some benefit to you in your quest for the perfect shed to get in perfect shape.
Any questions?
You can call us on 01 864 4247 or message us on Facebook if you've any outstanding questions about getting a base for a wooden shed sorted. That said it's basically as simple as buying the right amount of blocks.