Description
Candle Holder
These stainless steel, lantern-style candle holders are the perfect place for your favourite candle. They'll allow the candles' scenes to radiate throughout the room, while offering some protection.
Lantern Style
Lantern Style candle holders offer not only beautiful aesthetics, but also the best possible location for a candle to be used in. Their flat surfaces ensure the candle will burn evenly, the glass-covered doors add some protection should the candle be knocked over and their easy-carry handles allow for easy, safe movement of the candle.
Candle Holder: Materials
These candle holders are made with stainless steel; they are not cheap chrome. This means that scorch marks are less likely to occur (and much easier to remove should they ever happen). The panels are single-pane glass
Sizes Available
There are three sizes available, small, medium and large.
Small
17cm (Wide) x 16cm (Deep) x 40cm (Tall). It is 35cm tall without the topping
Medium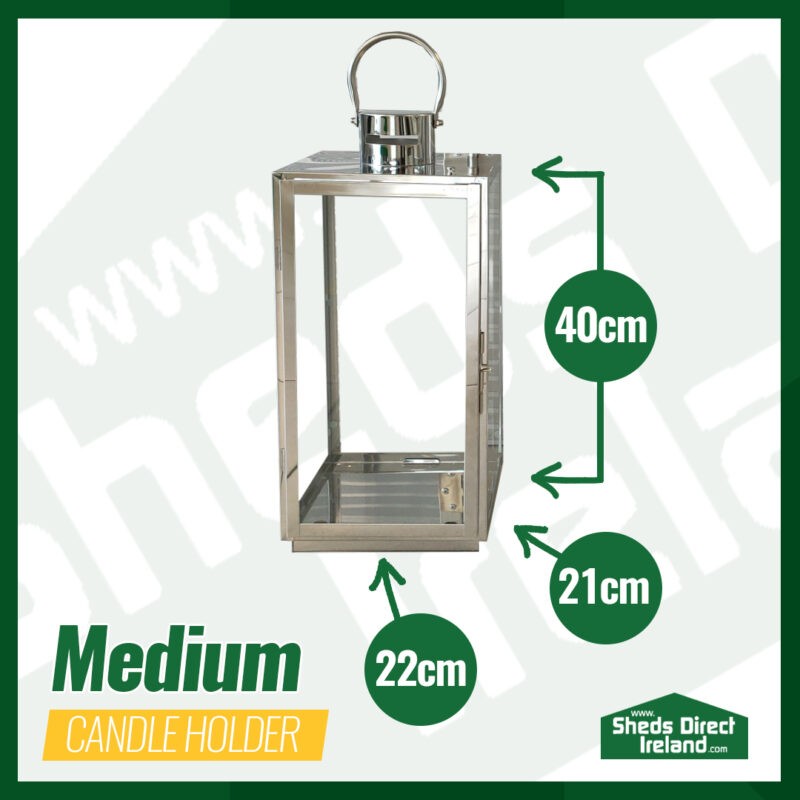 22cm (Wide) x 21cm (Deep) x 45cm (Tall). It is 40cm tall without the topping
Large
22cm (Wide) x 21cm (Deep) x 65cm (Tall). It is 60cm tall without the topping
Perfect for Weddings
These elegant candle holders are perfect for weddings. The lantern style is very traditional and simple without being plain. With a simple white candle inside, they can add a touch of class to any ceremony. Exposed candles can pose a risk to guests, but a lantern style candle holder is safe and beautiful.
Delivery
These Lanterns can be delivered anywhere in Ireland via courier. It's €12 per unit and you should expect to have your new Candle Lantern in 2-3 working days.
Other Lighting Options
If you're looking for something less traditional, we have a range of 100% solar powered Garden Lights that can cheer up any garden. Or, if you're looking for extra pieces to make your wedding a bit special, check out our LED Swing Chair.
Get in touch
Call us at (01)-864-4247 ti ask us about these candle holders or to discuss large orders for your big day!
You can message us on Facebook or Instagram too!
Reviews (0)
Only logged in customers who have purchased this product may leave a review.