The Fantastic 4X6 Steel Garden Shed
Compact Garden Storage!
Like a Hobbit, this is compact, beautiful and it can be filled up full of things from around the house. The 4×6 Steel Shed is 4′ wide, 6′ deep and 6'6″ tall.
Vents and Gutters!
Built-in Metal Vents reduce condensation and the gutters/outlet spouts prevent corrosion of the metal too! Win-win!


Description
The Fantastic 4X6 Steel Garden Shed
The most compact shed offered by Sheds Direct Ireland is the 4×6 Steel Garden Shed. It is 4ft wide, 6ft deep and 6.6ft tall, and while it's compact, it's not short on storage space. Like all Steel Sheds from Sheds Direct Ireland, it comes with a 5 year Rust Perforation Warranty. Above all, it's perfect for cleaning up any garden or patio.

Made with Galvanised Steel, The 4×6 Steel Garden Shed has been treated with Zinc, so it is resistant to rusting. The Frame, gutters and internal bracing have all been through the galvanisation process, so the whole unit is solid. The frame is 0.6mm thick galvanised Steel. The Door is 0.4mm and the sheet metal walls are 0.3mm thick. This shed is surprisingly robust for its size!
The single hinged door on this 4×6 Steel Garden Shed, which comes with a built-in handle and bolt lock. To enhance the door, there is an internal metal brace for strength. To reduce condensation, there are two built-in vents that increase air-flow throughout the shed (just make sure not to block them up!). These are a departure from our previous plastic ones.
The Shed also comes with gutters and an outlet spout so the constant Irish rain won't be an issue on this one. It's also handy. You can connect some tubing/a hose to collect rain during Summer Months, for example.
If you need something slightly larger, why not check out the 6×5 Steel Shed in Green?
Find us on Facebook or call us at 01 8644247 should you have any questions about this shed.
The 4ft x 6ft materials
0.6mm Galvanised Steel Frame
0.3mm Zinc Coated Colour Panels
0.6mm Internal Wall Brace Bars
The 4ft x 6ft dimensions
Apex : 203cm / 6'6″
Door Height: 181cm / 5'9″
Door Opening : 66cm / 2'1″
Gutter to Gutter Width: 129cm / 4'2″
Gutter to Gutter Length: 195cm / 6'4″
*Metal Sheds are sold to the nearest foot and may differ plus or minus 10%*
The 4ft x 6ft features
2 built-in metal vents for air flow (1 front, 1 back)
Metal foundation frame for added strength (ply floor can be laid upon this)
Side gutters with outlet spout
2ft wide hinge door with handle
Bolt lock on the door
Colour: Two-tone grey
The 4ft x 6ft assembly details
This shed is easy to assemble for those with experience in working with flat-pack items. Instructions, Screws, nuts and fittings are all included, however, you will need the tools to erect this yourself (drill, screwdriver). The instructions are image-based, i.e. there is very little text. We would recommend that you read our guide to self-assembly and check out our instructions page to see what's involved if you're thinking of giving self-assembly a go yourself.
We would strongly advise that two people put this unit together as it may be awkward or unsafe to do it alone. The large sheet panels can be cumbersome and difficult to align alone. They can become very dangerous in high winds, so we also advise against assembly in windy, wet or otherwise unsafe conditions.
Assembly by our team
The team will assemble your shed for you provided that you have a suitable base. The assembly team do not apply the screw caps or remove the protective plastic film. These are optional and it is the customers' choice to add/remove these if desired.  The assembly team do not assemble any other products other than the steel shed.e.g. They do not assembly shelving units, canopies, carts or any other item purchased with the shed
Base Requirements
All our Steel Sheds require a solid level base. Concrete, Paving slabs and Tarmac are all suitable. See more about what your base should look like here.
We advise that you lay a damp-proof membrane under your base to reduce the chance of condensation formation during the colder months.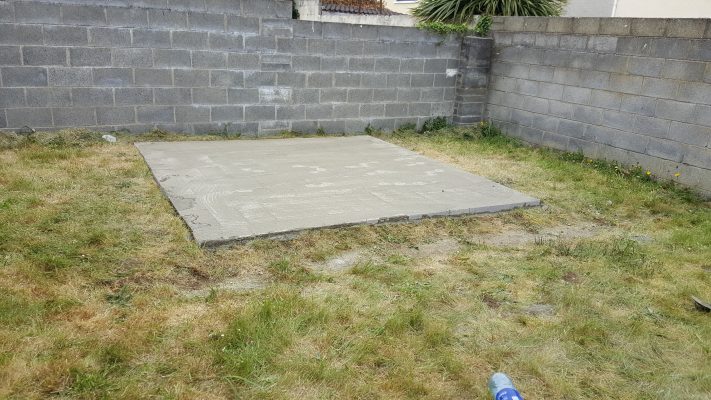 Please read our 'What to expect after purchasing your shed' guide for all information relating to delivery / assembly. Page 1 is flat-packed delivery details, page 2 is supply and fit details. 
The Pictured Wooden Floor is not included with flat-packed sheds. Ply flooring only comes with the assembly option, which is not available in every county. 
You will need a solid, level base for this shed. It cannot be laid on grass alone. Please see our guide on how to choose should you need assistance.

Sheds are measured externally, i.e. gutter to gutter.

Internal floor size will differ from external measurements.

In very rare instances, the shed may vary +/-10% in size. This is because of the way in which steel is cut. 
Please read our FAQ if you have any other questions in mind before purchasing. Or call us at 01 864 4247 or message us on Facebook.
If you are considering self-assembly, we recommend that you read 

our guide

 on self-assembly first.
Contact us at 01 8644247 or find us on Facebook if you've any other questions!
Additional information
| | |
| --- | --- |
| Flat Pack or Assembled | Flatpacked, Supplied and Fit |
| County | *Collection, Antrim, Armagh, Carlow, Cavan, Clare, Cork, Derry, Donegal, Down, Dublin, Fermanagh, Galway, Kerry, Kildare, Kilkenny, Laois, Leitrim, Limerick, Longford, Louth, Mayo, Meath, Monaghan, Offaly, Roscommon, Sligo, Tipperary, Tyrone, Waterford, Westmeath, Wexford, Wicklow |
Reviews (0)
Only logged in customers who have purchased this product may leave a review.