8ft x 6ft Woodgrain Sheds
Sliding Doors!
Maximise your space with sliding doors that retreat into the front of the shed when open.
CE Approved!
We are one of 2 companies in Ireland that have CE approved Sheds, so you know they meet all health, safety, and environmental protection standards for products sold in the EEA.


Description
8ft x 6ft Woodgrain Sheds
The Sheds Direct Ireland budget range is here and it comes in the form of our Woodgrain Metal Sheds. These sheds are ideal for those in need of some storage, but who don't need something as sturdy as our Classic Range, or Heavy Duty Range. They won't break the bank and they have a lovely wood-grain texture. There are three sizes available (you can see the others here)
The 8ft x 6ft is the smallest in the range, but it's not exactly. It's the most commonly sold size of a shed in Ireland. It's perfect for almost any sized garden and it's big enough for a couple of bikes and other general storage like lawnmowers, Christmas decorations and more.
What is Woodgrain?
Woodgrain sheds are sheds that have the appearance of Wood but which are made of metal. It's a thinner steel which makes it lightweight, affordable and easily decorated with the wood style. It's commonly the basic / budget range in most Steel Shed supplier's ranges.
These woodgrain sheds compete with all our rivals' budget ranges and unsurprisingly, they come out on top in terms of quality. All these Woodgrain Sheds have 170cm doors (not 154cm like our competitors), gutters, an internal floor frame and 7ft Apexes. Don't forget that they've 4 vents too, which prevent against condensation. They're fantastic for the price. 
The Steel on the sheets is .25mm thick, while the frame is .6mm thick. The joists are 1mm thick too, for added support. While these sheds aren't as sturdy as the Classic Range that we offer, they're considerably stronger than other budget range sheds on the market. The metals edges have been rolled to prevent jagged edges too.
Remember as with all our Steel sheds, you'll need a solid level base in place for installation. If sheds are just placed on grass alone, they can sink. If two sides of a shed sink at different speeds, they can crack over time. So, it's important that a solid level base is in place so that your shed can last for years to come. As this shed is lighter than our classic range, we ask that you bolt it to the surface that you are laying it onto, also.
The Woodgrain 8ft x 6ft materials
0.6mm Galvanised Steel Frame
0.25mm Zinc Coated Colour Panels
1mm Joist
The
Woodgrain 8ft x 6ft
dimensions
236cm Wide
195cm Deep
209cm Tall (in the apex)
177cm Tall (in the eves)
*Metal Sheds are sold to the nearest foot and may differ plus or minus 10%*

The
Woodgrain 8ft x 6ft
features
4 Vents for ventilation (2 front, 2 back)
Metal Foundation Frame for Floor
Side Gutters with Outlet Spout
2 Sliding Doors with Lockable Handles
Colour: Wood Effect
Woodgrain Sheds
assembly details
This shed is easy to assemble for those with experience in working with flat-pack items. Instructions, Screws, nuts and fittings are all included, however, you will need the tools to erect this yourself (drill, screwdriver).
We would strongly advise that two people put this unit together as it may be awkward or unsafe to do it alone. The large sheet panels can be cumbersome and difficult to align alone. They can become very dangerous in high winds, so we also advise against assembly in windy, wet or otherwise unsafe conditions.
Here are the [pdf-embedder url="https://www.shedsdirectireland.com/wp-content/uploads/2020/01/Woodgrain86.pdf" title="woodgrain 8ft x 6ft Assembly Instructions"]
Assembly by our team
The team will assemble your shed for you provided that you have a suitable base. The assembly team do not apply the screw caps or remove the protective plastic film. These are optional and it is the customers' choice to add/remove these if desired.  The assembly team do not assemble any other products other than the steel shed. e.g. They do not assembly shelving units, canopies, carts or any other item purchased with the shed
8ft x 6ft Woodgrain Shed Flatpacked Box Sizes:
This shed comes in three boxes they are measured like so:
203 (L) x 39cm (W) x 20cm (D)
179 (L) x 82cm (W) x 10cm (D)
Do you still have some questions? Get in touch by calling (01) 864 4247 or messaging us on Facebook.
Base requirements
All our Steel Sheds require a solid level base. Concrete, Paving slabs and Tarmac are all suitable. See more about what your base should look like here.
We advise that you lay a damp-proof membrane under your base to reduce the chance of condensation formation during the colder months.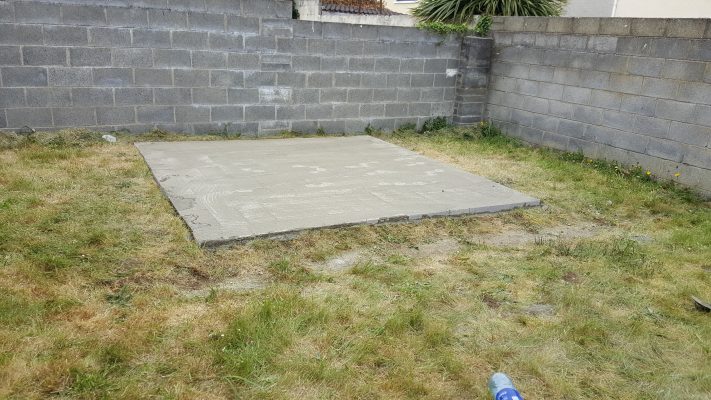 Please read our 'What to expect after purchasing your shed' guide for all information relating to delivery / assembly. Page 1 is flat-packed delivery details, page 2 is supply and fit details. 
Woodgrain metal sheds are our budget range. They are made with considerably thinner metal than our Classic Range. 
The Pictured Wooden Floor is not included with flat-packed sheds. Ply flooring only comes with the assembly option, which is not available in every county. 
You will need a solid, level base for this shed. It cannot be laid on grass alone. Please see our guide on how to choose should you need assistance.

Sheds are measured externally, i.e. gutter to gutter.

Internal floor size will differ from external measurements.

Woodgrain sheds may have surface-level scratches on the surface. The woodgrain effect is applied via a heavy sticker, which scuffs easier than steel itself.
In very rare instances, the shed may vary +/-10% in size. This is because of the way in which steel is cut. 
Please read our FAQ if you have any other questions in mind before purchasing. Or call us at 01 864 4247 or message us on Facebook.
If you are considering self-assembly, we recommend that you read 

our guide

 on self-assembly first.
Contact us at 01 8644247 or find us on Facebook if you've any other questions!
Additional information
| | |
| --- | --- |
| Flat Pack or Assembled | Flatpacked, Supplied and Fit |
| County | *Collection, Antrim, Armagh, Carlow, Cavan, Clare, Cork, Derry, Donegal, Down, Dublin, Fermanagh, Galway, Kerry, Kildare, Kilkenny, Laois, Leitrim, Limerick, Longford, Louth, Mayo, Meath, Monaghan, Offaly, Roscommon, Sligo, Tipperary, Tyrone, Waterford, Westmeath, Wexford, Wicklow |
Reviews (0)
Only logged in customers who have purchased this product may leave a review.