Paraffin Heaters and oil heaters are growing in popularity in Ireland. They are the economically sound way to heat your home or office. With Paraffin Oils like Tozane now available on the Irish market, it has never been safer to use an Oil Heater. See why so many people have made the switch.
Paraffin Heaters are Cost Effective
The Inverter 5096 Heater costs as little as 14c per hour to run
CE Approved for Safety
All our heaters come with a CE Safety seal of approval. 
Lovely & Toasty
Heat only the rooms you want to and avoid using the central heating unnecessarily.
Nationwide Delivery on Paraffin heaters in Ireland
See individual products for prices
TOZANE fUEL
We stock the Premium Paraffin fuel with the least odour, Tozane. With all impurities removed, it's the safest option available for both you and your heater
What Fuel Should I Use with a Paraffin Heater?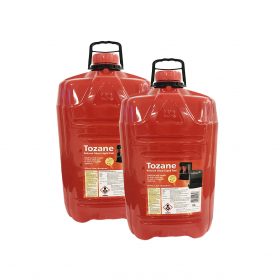 All our paraffin heaters run on Tozane, a Paraffin-based Fuel. It's important to note that while Paraffin and Kerosene are generally considered to be the same thing – there are some minor details that make all the difference in home heating. 
Paraffin is a distilled version on Kerosene. It's had the impurities and plastics taken out, meaning that it's made for indoor use and considerably easier on the lungs. It produces no 'soot' unlike it's Kerosene counterparts, so you won't notice any 'blackening' or Tar build up on your heater. These build ups can also lead to problems with the Heater turning on or off. So, you can see why we only supply Tozane Fuel. 
There are cheaper oils and fuels available for Oil Heaters in Ireland  – but none are as safe for human inhalation or lifespan of the a heater than Tozane. Looking for help changing the wick on your Paraffin Heater? check out this video. While not a heater we stock, it will point you in the right direction. 
Important Safety Details: 
Please note: Only use top quality, liquid combustibles with the aromatics removed, which are free from impurities in our heaters. They should have max 1% of aromatics and a flash point above 61°. 
Please read our Fuel Instructions here
We offer a warranty on our heaters provided the correct fuel is used. If your heater breaks down we can look at this for you. Please note that during fixing of heaters sometimes some surface damage/scratching can occur to the surrounding casing due to the nature of the task. This is unfortunately out of our control and it will have no effect on the functioning of your heater.
Please note, we only offer repairs on heaters that we have sold. We will need proof of purchase before beginning any repairs. 
Contact us at 01 8644247 or on Facebook if you have any questions about your warranty.