Steel Sheds in Northern Ireland
Sheds Direct Ireland deliver high quality, affordable steel sheds in Northern Ireland. Whether you're in Antrim, Armagh, Derry, Down, Fermanagh or Tyrone, we can get a steel shed out to you in as little as three working days. Our steel sheds are delivered flat-packed with all the parts and instructions that you'll need right there in the kit. You just need to have a solid, level base in place (concrete, paving slabs etc) as well as some basic tools (we'd strongly recommend a cordless drill).
Sheds Direct Ireland provide high-quality steel garden sheds at a fraction of the cost of the competition. If you don't need a 10-tonne shed, and just need something for simple storage, check out our range. And hey, don't take our word for it, read over 200 of our Google Reviews to see what people are saying about us!
We're the only shed company on the island of Ireland that is Business All Stars accredited and we've sheds built in every county in Northern Ireland. Here are a sample of some of our larger classic-style steel garden sheds.
Steel Shed Kits in Northern Ireland
Our Steel Sheds come in 1-3 boxes (depending on which size that you want) with all the steel sheets, frame, floor frame and all necessary screws. There are picture-based instructions for you to follow as you self assemble this shed (you can see examples of these here).
If you have any experience with builder large flat-packed items, they should pose little challenge for you. However, if you've not tackled a large build like this before, they may be more challenging. We would recommend that you read our guide on steel shed assembly before you jump straight in!
It takes our fitting team about 2 hours to assemble the Colossus Shed, but semi-experienced customers could expect to do it in 4-5 hours and those with little experience about twice as long as that.
Shed assembly in Northern Ireland
At present, we can assemble your steel shed for you in Co. Armagh. Currently, we do not offer assembly in any of the other counties in Northern Ireland. That said, we are available during working hours to help with any steel shed assembly questions that you might have and while the business is closed you can read our Frequently Asked Questions to find answers to the common issues that people run into.
Steel Sheds in Northern Ireland: Prices
Our steel shed prices can be found on the individual products. The pages are made so that you can see the prices including delivery too. Simply slect the shed you want and on that page choose 'flat-packed' and then your county from the drop-down menus to get an instant price.
The only extras in price are the ones you choose to add on yourself! Click here to see our full range.
Steel Sheds in Northern Ireland: Delivery Times
We ship our sheds from our Dublin base, so you'll have your shed in as little as 3 working days. This may be 5 working days during peak delivery seasons (like the two weeks before Christmas or during the first 2 weeks of May), but we'll give you an idea of delivery times if you ask when ordering.
Steel Sheds Materials
We offer various ranges Galvanised Steel Sheds here at Sheds Direct Ireland. The budget range are 0.25mm thick, the classic range's panels are 0.33mm thick and they're coated with zinc to prevent rusting and the Premium Range are 0.45mm thick. Providing you don't scratch them (or just leave them unscratched after it happens), these sheds will not rust. Sure you may see tiny pockets of surface rust on smaller parts like the screws after some time, but we offer an 18-year rust perforation warranty, so you know that the shed will last.
The frames are between 0.6mm-1mm thick, as are the internal wall brace bars, so they're considerably sturdier than some of the sheds also available in Norn Iron.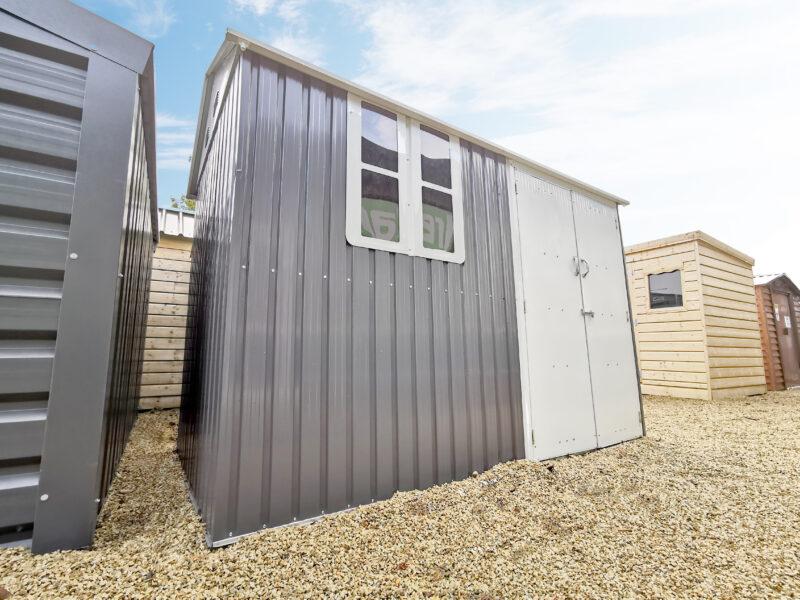 So if you're looking for beezer steel sheds for sale in Northern Ireland, check out our full range and see why they're famous all over the island of Ireland for yourself. If you've any questions, you can call us at +353 1 864 4247 or message us over at Facebook.