Sheds Direct Ireland
See what everyone is saying about Sheds Direct Ireland
We're Shedly!
Our customers aren't shy in letting us know how they feel about our products, our service and our lovely, lovely staff. You can see what they think for yourself in all the usual places,
For example, on Google Maps, you'll see that we've more 5-star reviews than any other Irish Shed company. Over on Trustpilot, we're rated Excellent and BestinIreland.com awarded us with their 'Best All-Round Sheds', title.
That's not all, though. We're also Guaranteed Irish, we're got the Retail Excellence Ireland Trustmark, we're the only AIBF Business All Stars accredited shed company (for 5 years in a row), we've received the Trust eCommerce Europe checkmark AND we were awarded the SuperTeam of the year by the AIBF too.
We really are Shedly!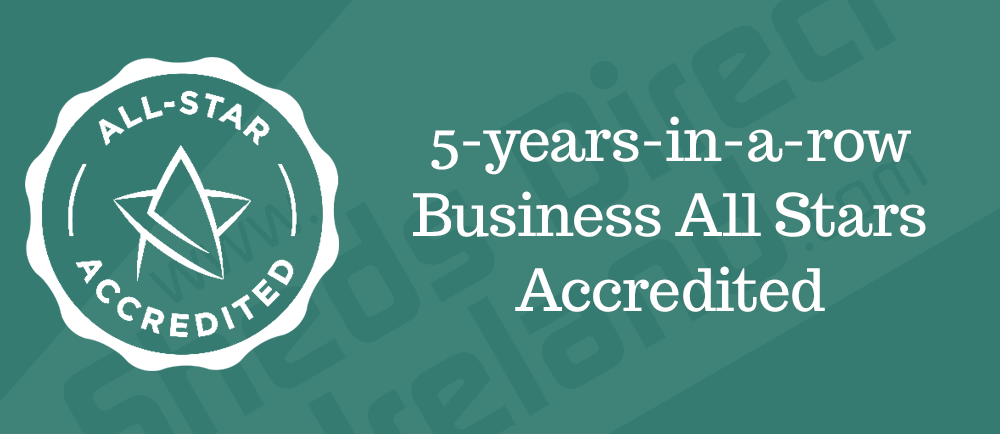 Find us in Finglas!
Visit our Showroom in Finglas. We're in the Jamestown Business Park and we're the first business on the right on the Jamestown Road side. See us on Google Maps.
Sheds Direct Ireland Opening Hours
Mon to Thurs: 9.00am to 5.00pm Fri: 9.00am to 4.00pm Saturday 10am to 3.30pm Sunday – closed Closed for lunch: 1-2 midweek
Steel Shed Collection Times
Steel Sheds can only be collected on: Tuesday, Wednesday, Fridays and Saturdays Tuesday: 10.00am – 2.30pm Wednesday: 10.00am – 2.30pm Friday: 10.00am – 2.30pm Saturday: 10.00am – 2.30pm Click for more information
Agents
West of Ireland  Agent Call Ned Delaney: 086 152 6951
Cork Agent Call Karl Dempsey: 086 821 7777